Best used compact family hatchbacks
The Skoda Octavia is the best used compact family hatch in our Used Car Awards 2020
Best used compact family hatchback: Skoda Octavia
A new Skoda Octavia is hitting showrooms soon, but it's a heavy update of the outgoing model, rather than an all-new car. So while that new car has a little more tech and some plusher materials, a second-hand Octavia gives you the same practicality, even more affordability, impressive versatility and lots of efficiency. It's a perfect and pragmatic used car buy.
Our example is a later, facelifted car, so benefits from a few extra touches, including pedestrian detection. Watch out for this feature fitted to used cars.
Whichever version you go for, the same great traits remain – mainly, the 590-litre boot. The hatch reveals a huge load space that means most families won't get near the extremes of the Octavia's practicality.
It's not a car that tugs at your heart strings, but think with your head, and the Skoda is the most sensible option in this class; little touches, such as an ice scraper in the fuel filler door and an umbrella in the cabin, show Skoda has seriously thought about how owners will use the vehicle, and that makes it easy to live with.
The huge amount of space in the rear seats means the Octavia is still a class-leader, even on the used market, while the simple but effective dash design combines great infotainment in the facelifted model with plenty of family-friendly storage.
The Octavia is based on the same chassis as the VW Golf and SEAT Leon, so it steers with a similar level of precision, but its ride is a little softer. The example we picked was fitted with the newer 113bhp 1.0-litre TSI engine, which offers more grunt than you'd imagine, giving the car satisfactory flexibility, but also plenty of long-distance cruising refinement. It should be a cheap engine to run, and at £8,690 for the SE model we saw, the Octavia looks like a used bargain.
Finance options
The Octavia may be a pretty big car, but it costs barely any more than the far smaller SEAT Ibiza with a less powerful version of the same engine. That's true in finance terms, too, with monthly payments weighing in at just £162 – which is very little for a car of this size that is still a pretty recent design. Just bear in mind that if you want to own the Skoda, you'll need to stump up a further payment of £4,294 at the end of the contract.
Commended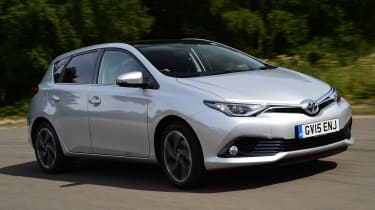 While Toyota's hybrids have moved on since the Auris, this used model gives you the option of petrol power, diesel for covering higher mileages, or hybrid if you want to maximise efficiency. The hybrid CVT auto is our pick; just keep your driving style relaxed to get the best economy.
Left-field choice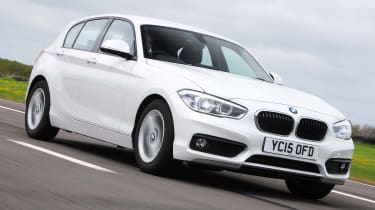 It doesn't seem like the most left-field choice, but in contrast to every other family car on sale, the 1 Series is rear-wheel drive. So if you want a model that focuses on sharp handling and a fun drive, this is it. For less than £10k, you can choose between sportier petrols and more frugal diesels.