Best executive car
Which executive cars manage the tricky combination of prestige, comfort and dynamics?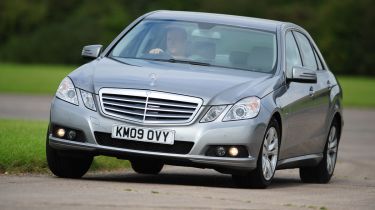 The executive class demands a few key strengths: these cars spend the majority of their lives pounding up and down motorways, so their drivers are looking for something refined and comfortable. A large boot and efficient engine will help boost appeal, too.
Winner: Mercedes E-Class You've told us the executive car of choice is the Mercedes E-Class, because it has what matters most to executive buyers. It scored highly for both comfort and ride quality, which should help make those long motorway journeys pass easily. According to drivers, it's not the most efficient car or best- handling car in the class, but it still managed to beat the Jaguar XF and BMW 5 Series into second and third place, respectively.
Last place: Audi A6 MKIII The old Audi A6 has quickly fallen to the bottom of the executive class, as newer rivals offer improved ride quality, running costs and performance. The 54th-place finish overall reveals there are plenty of cars that performed worse in this year's survey, though.
| | | | |
| --- | --- | --- | --- |
| Position | Make | Model | % |
| 1 | Mercedes | E-Class MkIV | 90.03% |
| 2 | Jaguar | XF | 89.40% |
| 3 | BMW | 5 Series MkVI | 85.58% |
|   |   |   |   |
| Last place | Audi | A6 MkIII | 84.81% |
See the results…