Aston Martin DB5, Goldfinger (1964)
BOND FACT: The car also appears in Thunderball (1965), GoldenEye (1995), Tomorrow Never Dies (1997), Casino Royale (2006) and Skyfall (2012)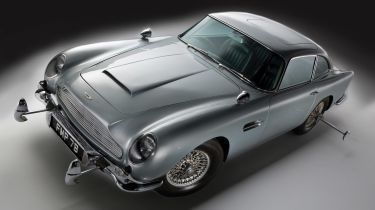 Aston Martin DB5, Goldfinger (1964)/Thunderball (1965)/GoldenEye (1995)/Tomorrow Never Dies (1997)/Casino Royale (2006)/Skyfall (2012)
No other car is more closely associated with Bond than the DB5. It was his first company car, and its many gadgets came courtesy of MI6's Q (famously played by Desmond Llewelyn).
For the DB5's screen debut in Goldfinger, 007 (Sean Connery) uses tyre-slashing wheel hubs to disable the Ford Mustang of Bond girl Tilly Masterson (Tania Mallet), then tracks the Rolls-Royce of Auric Goldfinger (Gert Frobe) to a secret factory in Austria.
But it's on Bond's departure from the factory where the DB5 comes into its own. Bulletproof glass and a rear shield protect him from a hail of bullets, while oil and smoke dispensers are used in a bid to shake off the baddies. When that fails, Bond turns to the machine guns behind the indicators, while a button on top of the gearlever operates the ejector seat.
The car proved so popular that it returned in Thunderball, and sales of Aston Martins were boosted by the publicity.
The DB5 is a landmark in the Bond franchise and has been revisited many times, including an improbable race against a Ferrari F355 in 1995's GoldenEye. And the most famous Aston in the world reappeared in the latest film, Skyfall.
• Lotus Esprit• Sunbeam Alpine• Aston Martin DBS• Ford Mustang Mach 1• BMW Z8• Aston Martin Vanquish• Citroen 2CV• What the villains drove