Best used hybrid cars
The Toyota Prius is the best used hybrid car in our Used Car Awards 2020
Best used hybrid car: Toyota Prius
Our pick: Toyota Prius (2016/16, 1.8 Hybrid Business Edition, 79k miles, £11,590)
The Prius has a fine reputation for environmentally-friendly motoring. It's a great option if you're looking to minimise your fuel bills without sacrificing other features, such as comfort or technology.
That's because this fourth-generation Prius, which was introduced in 2015, moved to an all-new chassis, based on Toyota's New Global Architecture platform. A sophisticated suspension set-up delivers a refined ride and impressive body control, so while the Prius focuses on sipping fuel, it's actually surprisingly good to drive.
The 1.8-litre petrol engine and electric motor set-up claimed sub-100g/km emissions at launch, and the 2016 example we found will be free to tax.
Business Edition spec is the trim level to go for. This features dual-zone climate control, LED lights, Toyota's Touch 2 infotainment system, a colour head-up display, adaptive cruise control, lane-departure warning, blind-spot monitoring, cross-traffic alert, heated seats and even wireless phone charging.
The CVT gearbox means the engine can drone if you ask for maximum acceleration, but this is at odds with the Prius's relaxed and efficient character. Keep things settled, and it's perfectly refined and comfortable.
You can add practicality to its broad list of attributes too. The platform was designed with hybrid powertrains in mind, so the batteries don't eat into space in the rear, while the 343-litre boot is still fair.
Just watch for high-mileage examples. Many Priuses have been used as taxis thanks to their efficiency. The batteries are known to be reliable, but we'd hold out for a lower-mileage model such as the one we found. Showing just over 79,000 miles, there should be plenty of life left in this car; and at £11,590 it's a bargain.
Finance options
Go for a reasonably new Toyota Prius, and while the cash price is high, strong residual values mean the monthly payments on PCP finance should be more affordable. Expect to pay around £247 per month on a three-year contract with a £1,750 deposit. However, those strong residuals mean that you'll need to find £10,606 at the end of the contract if you want to make the optional final payment to own the car.
Commended
BMW 330e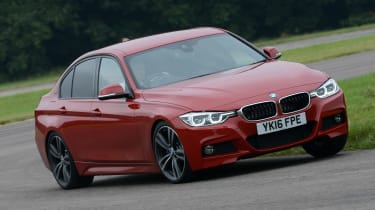 You can now pick-up a BMW plug-in hybrid from just £10,500. The 330e was the German brand's first foray into PHEVs, but with emissions of only 44g/km yet 0-62mph possible in 6.1 seconds, you could have your cake and eat it. Just remember to charge up religiously to maximise efficiency.
Left-field choice
Volvo V60 D6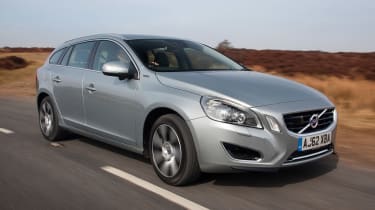 There aren't many diesel plug-ins around, but the V60 was Volvo's first attempt at hybrid drive. Depreciation means this premium Scandinavian plug-in is now much more affordable and offers an interesting, refined and electrically assisted powertrain at a knock-down price.