Best used large 4x4s and SUVs
The Kia Sorento is the best used large SUVs in our Used Car Awards 2020
Best used large 4x4 and SUV: Kia Sorento
Our pick: Kia Sorento 2.2 CRDi KX-2(2017/66, 54k miles, £15,860)
The Sorento is one of the roomiest seven-seat SUVs on the market today. It's a comfortable family car and it offers decent value for money, although because of its size and weight, running costs can be a little higher than for some of its newer rivals.
But these more modern competitors aren't as cheap to buy; a Skoda Kodiaq of the same age and mileage carries a £2,000 premium over the Kia, for example. Our pick is also a 2017 model, which means it'll still be covered by Kia's excellent seven-year warranty for another four years, which will provide great peace of mind for used-car buyers.
The engine range is simple, because there's just one 197bhp 2.2-litre four-cylinder diesel unit on offer, and every single model comes with four-wheel drive as standard, which means the Sorento stands up well to more utilitarian tasks, such as towing or light off-roading. Sure, it's not as capable as a Land Rover Discovery, but for a road-biased SUV, it's great.
The engine is paired with a six-speed manual gearbox, or an eight-speed auto on more generously equipped trims. Both options are good – the auto makes for a relaxing drive, while its short ratios mean the Sorento feels faster than its 9.1-second 0-62mph time suggests. Fuel economy stands at 39mpg, though, so while you might save a chunk over its rivals buying used, budget to spend a little more at the pumps.
Inside, the Sorento is upmarket, because it was the first Kia to offer a premium finish inside. The dashboard and door cards feature soft-touch plastics and gloss-black trim, while leather is standard on mid-range KX-2 variants and above. There's a decent level of standard kit, too, including a seven-inch infotainment system, electric mirrors and parking sensors.
Finance options
Big SUVs aren't cheap in cash terms, but since PCP monthly payments cover the difference between a car's initial price and its expected value at the end of the contract, the typically high resale values of SUVs mean they're great value. Consequently, a Sorento could cost around £320 per month from BuyaCar.co.uk. Just remember that those high values mean an £8,645 bill if you want to buy the car at contract's end.
Commended
Skoda Kodiaq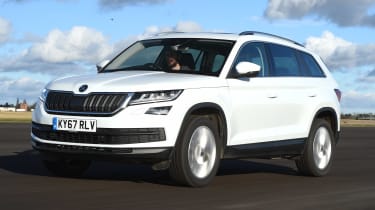 The Kodiaq has been around for four years now, which means depreciation has set in, allowing you to net a 148bhp 2.0 TDI model in Skoda's relatively well equipped SE trim for around £17,000. If you're willing to opt for petrol power, then prices dip as low as £14,000.
Left-field choice
Mitsubishi Shogun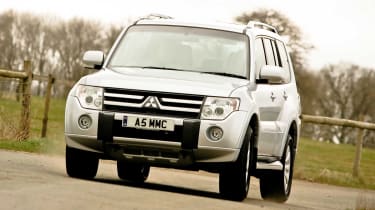 Body-on-frame construction and a torquey 3.2-litre four-cylinder diesel mean the Shogun is hugely capable off-road, while trim and tech updates have kept it competitive. However, road manners have been sacrificed in pursuit of off-road performance, so it can feel a little wayward on tarmac.