New BMW 1 Series Saloon revealed for China
Saloon version of BMW's popular 1 Series has been unveiled exclusively for the Chinese market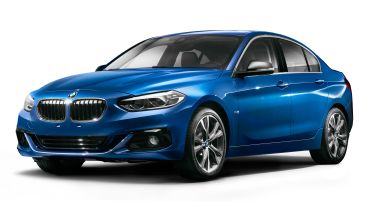 BMW is making an attempt to tap into the fastest growing sector in the Chinese car market, with the launch of the new BMW 1 Series Saloon. Taking significant influence from the existing 1 Series Hatchback, the new 1 Series Saloon will be built and sold exclusively in China.
In a bid to attract new customers, the 1 Series Saloon will sit alongside the BMW X1 and the BMW 2-Series Active Tourer, providing more entry-level models for Chinese buyers. China notoriously favours the saloon bodyshape, while UK customers tend to favour the more familiar hatchback.
Development and testing of the new 1 Series saloon was carried out at BMW's headquarters in Germany. However, consultation with Chinese engineers was essential to ensure that the new car copes with the different road surfaces and conditions found in China. BMW engineers have made improvements to the drive of the 1 Series with a specific focus on tailoring the car to Chinese customers' preferences.
The production 1 Series Saloon takes strong influence from the BMW Concept Compact Sedan, which premiered at the Guangzhou Motor Show in 2015. The 1 Series saloon features BMW's recognisable double kidney grill, and retains design elements of the concept car with LED headlights and several familiar BMW design cues. BMW hasn't yet confirmed the engine line up, but quotes: "the latest powerful and technology-leading engines with hi-tech electronic technology from BMW will feature". BMW's ConnectedDrive infotainment system is also included.
It's unclear whether BMW will bring its Audi A3 Saloon and Mercedes CLA rival to the UK, but at the moment it's looking unlikely. Ireland aside, the British market tends to favour hatchbacks and SUVs, meaning projected sales are understandably small.
Would you consider buying a saloon version of the BMW 1 Series? Let us know below!