Perodua vs Mazda
Perodua has traditionally been unable to challenge the best superminis, and focused instead on being the champ of cheap new cars. Is its new Myvi good enough to change all that? We put it head-to-head with Mazda's 2...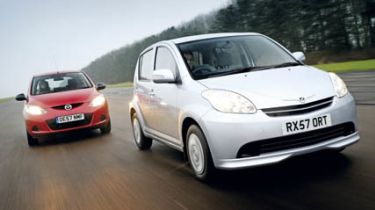 Since breaking into the UK in 1997, Perodua hasn't made a big impression. In fact, it's most famous for selling Britain's cheapest new car. The Kelisa costs an amazing £4,792, but it's outdated, basic and never likely to be a big success.
The Malaysian firm claims its new Myvi is a more serious proposition for British customers. A rebadged version of the Daihatsu Sirion, it comes with a 1.3-litre petrol engine, while the £7,799 price means it's £306 less than the car on which it's based.
However, nabbing a few Daihatsu buyers is one thing – the question is whether the Perodua can take sales from established rivals?
Well, the latest superminis have seen a big improvement in quality, safety, refinement and handling. Our current favourite is the Mazda 2, and the 1.3 TS we test here costs £8,499 – or £700 more than the Myvi. Is this money well spent, or is Perodua now ready to challenge the best?
Verdict
Perodua is a minnow in the UK, but the Myvi shows it deserves future sales success. The car offers decent space and inoffensive looks, and is a more modern and better-quality product than anything the brand has sold before.
Crucially, it's almost identical to the Daihatsu Sirion, and yet is cheaper, so will appeal to those who want a bargain car with proven mechanicals. But poor body control, vague steering and less than impressive brakes mean the Myvi falls short dynamically.
While the interior is robust and practical, with split-fold rear seats and lots of room, it lacks any real style and simply can't match more modern rivals for material quality.
Crucially, even though the Myvi costs a lot less than its opponent here, it's outclassed by a margin that's more than big enough to justify the price gap. The Mazda 2 is better built and dynamically far superior to the Malaysian model.
While the Perodua is a bargain car for getting from A to B, the 2 is a class-leading supermini that will appeal to a broader spread of buyers. It's great to drive, well designed inside and out, and is a fantastic all-rounder.