Peugeot vs Volkswagen
Peugeot's new turbocharged 308 has upmarket aspirations. but can it match the premium class quality of the Volkswagen golf? We find out...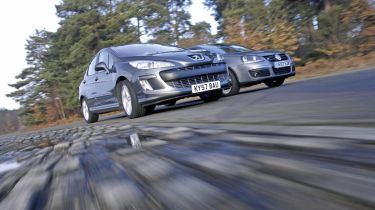 A DECADE doesn't sound like much in the life of the planet. In the automotive world, though, it's virtually a lifetime. For instance, compare a decent modern hatchback to one from 10 years ago, and the differences in cabin space, quality and refinement are astonishing.
These continual improvements are great news for buyers because even volume manufacturers are now producing classier models. But the question is: how good are they?
In Issue 994, we looked at how affordable premium marques can be. Now, we flip the coin and find out whether mainstream brands can build a genuinely luxurious hatch. Each time a car is launched, the adverts tell us how it sets new benchmarks in quality – and Peugeot's 308 is the latest to do this. It's based on the 307, but bosses claim it's revamped inside and out, resulting in higher standards and more desirability than ever.
Does that mean it can rise above the rest of the class? That's what we aim to discover as we put it head-to-head with its toughest rival – Volkswagen's Golf. The German car has an enviable reputation for quality and, thanks to its new 1.4-litre TSI engine, it promises strong performance and economy. Not to be outdone, the 308 features Peugeot's latest THP engine technology. So which can truly claim to be a luxury hatch?
Verdict
SO can a mainstream marque build a genuinely luxurious hatchback? If that's what you're after, the Golf is the car for you.
As soon as you get behind the wheel it's instantly apparent that Volkswagen's reputation for quality is well deserved. The materials and fabrics used in the cabin are top-class and all the switches and controls are robust and pleasingly damped.
The smooth ride and handling add to that feel, and dynamically, the Golf is one of the best family hatchbacks around. You only have to look at its excellent residual values for proof.
So the VW easily holds off the challenge of the 308 here. Sadly, Peugeot's attempts to move the hatch upmarket aren't successful. There are too many compromises, and the brand has a long way to go in order to build the reputation for reliability that Volkswagen enjoys. This car is a little too much like its predecessor.
It's a capable performer, and the 1.6 THP engine is punchy and enjoyable to use. But while the 308 is a decent hatch, the quality of the Golf only serves to highlight the French car's shortcomings.