BMW 316d vs Audi A4 TDIe
BMW has launched its most efficient version of the 3-Series yet, but can Audi's ne w eco A4 steal its thunder? We hit the motorways to find out.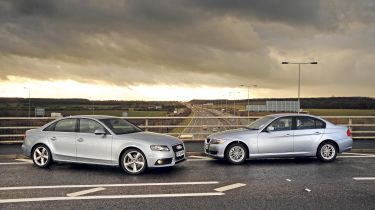 Desirability, efficiency and luxury are the holy trinity for those with company cars.
And high-mileage business drivers will love these two newcomers, which aim to provide all three in attractive and tax-friendly compact executive saloon bodies.
When it comes to low emissions in this prestige sector, BMW has set the pace with its EfficientDynamics hardware. And the firm's new ultra-efficient 316d is powered by a detuned version of its familiar 2.0-litre diesel engine. The 116bhp model is claimed to return combined fuel economy of 62.8mpg, thanks to stop-start technology, low rolling resistance rubber and brake energy regeneration. Low CO2 emissions of 118g/km also ensure company drivers only pay 13 per cent benefit-in-kind tax.
But the 316d isn't the sole option in the eco saloon class. Audi's A4 is set to lock horns with its German rival, as it's now available in TDIe guise and has stop-start technology for the first time.
A glance at the A4's spec sheet shows it has more power than the 3-Series, plus similarly impressive economy and CO2 claims. So, has the Audi's time finally come, or will the BMW retain its place at the front of the compact executive pack?
Verdict
These cars use a range of technologies to help slash emissions and boost economy. From stop-start and brake regeneration to gearshift indicators and aerodynamic tweaks, they're as clean as compact executive models get.
And that's not all, as solid build quality and prestige badges both come as standard.
The Audi has a smoother engine, greater interior space and a more stylish cabin, but that isn't enough to triumph here. Why? Because it can't match the economy of the 316d, while lifeless steering and a firm ride leave it trailing the BMW.
If you want an enjoyable saloon that will help to trim your tax bill, both cars are ideal, but the 316d is the one that demands the fewer dynamic compromises. With real world economy in excess of 48mpg, affordable running costs and sharp handling, it wins by a narrow margin.
Ranking 1st: BMW 316d ES Economy and efficiency are the name of the game in this test, and the BMW wins on both counts. Add in a genuinely enjoyable driving experience, low running costs and terrific build quality, and the 316d wins. Only its brakes disappoint.
2nd:Audi A4 2.0 TDIe SE The TDIe is a welcome addition to the Audi line-up, with a classy and spacious cabin. But in the race for company car sales, it's beaten to the line by the more frugal BMW – we had to drive the A4 more carefully to optimise its returns.