Ford RS200: Buying guide and review (1985-1990)
Everything you need to know before buying Ford's road-going rally car.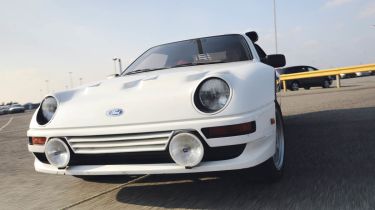 Ford was incredibly unlucky when it came to Group B rallying. It's original idea – the RS1700T – never made it past its early and troubled development, while the far more competitive RS200 barely got into its stride before the tragic incidents of 1986 saw the extreme formula banned.
Built from the ground-up to fight the Peugeot 205 T16, Lancia Delta S4 and the MG Metro 6R4 at the peak of Group B, the RS200 showed a lot of potential. 
Like all the best Group B machinery, there was nothing of a production road car under the Ghia-styled, glass-reinforced plastic skin. Built around a honeycombed aluminium, steel and carbon fibre central tub, a 1.8-litre turbocharged engine – the four-cylinder twin-cam 16v BDT – was developed by Cosworth and mounted behind the driver. 
Four-wheel drive was of course the only option at this point. Under normal operation, the RS200 had a 37:63 front:rear torque split, which could be switched to 50:50 for more slippery surfaces. Interestingly, could also run in pure rear-wheel drive mode for tarmac stages where it could (in theory) prove advantageous over the full four-wheel drive rivals.
In reality, the RS200 only had one year in Group B rallying to make its mark. Kalle Grundel, one of Ford's factory drivers, managed third place on the 1986 Rally of Sweden, which turned out to be the car's best result that season. The car's next outing on the Rally de Portugal saw it involved in a tragic incident that took the lives of three spectators. 
The incident in Portugal was just one of many that signs that Group B was simply too dangerous, and at the end of 1987 Group B was banned. The RS200 continued to compete in rallycross events, and like the Metro 6R4 proved quite popular due to being relatively cost-effective and easy to repair. An extreme version was built by a privateer to compete at the Pikes Peak hill climb several times.
To comply with the homologation rules, Ford had to build 200 road-going examples – with production of the road cars actually outsourced to Reliant. Ford actually struggled to sell them at the time, as these machines – however fast and capable – were pretty crudely finished and somewhat impractical to live with.  
But today, unlike most other Group B machines, the Ford RS200 is actually relatively simple to keep on the road. Of course, some parts are bespoke and expensive, but compared to a lot of its rivals it's a rather more simple machine to repair.  
Which RS200 to buy?
October 1985 saw the first production cars built. By then the RS200 had already won its first works outing, the Lindisfarne Rally. It won a few more rallies at the start of 1986 but the writing was now on the wall for Group B. The final production cars were made in January 1986 but, by the time they were delivered to their new owners at the end of that year, the RS200's competition career was over. 
Partnership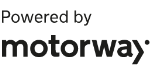 Need to sell your car?
Find your best offer from over 5,000+ dealers. It's that easy.
Because of the cancellation of the Group B series, some potential owners decided they no longer wanted their cars. As a result Ford never made the full quota of 200 vehicles: records show 158 vehicles sold. Ford apparently stripped down 50 cars already built, to resell them with extra equipment fitted.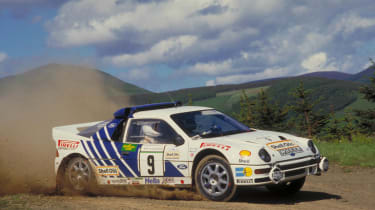 By the end of 1988 they'd all found new owners but it wasn't until 1990 that the final cars were delivered. Two types of engine were fitted to the RS200: a 1.8-litre unit or a 2.1-litre unit unique to the 20 Evo editions. There were two types of gearbox fitted: a road-spec unit with synchromesh, and a race spec with straight-cut gears. Even for the track you're better off with one of the former, as it's plenty strong enough, quieter and much easier to use. 
You need to ensure you're buying the genuine article. Most cars will come with the original bill of sale and this can be verified with records held by the RS Owners' Club. The spares that were never built into full cars by Ford may well have been used to create a new car since production ended, and there are even replicas around which have been known to be passed off as the real thing. 
Performance and specs
Ford RS200
| | |
| --- | --- |
| Engine  | 1803cc, turbocharged in-line four-cylinder |
| Power | 250bhp @ 6500rpm  |
| Torque | 215lb ft @ 4500rpm |
| Transmission | Five-speed manual, four-wheel drive |
| 0-60mph | 6.1 seconds |
| Top speed | 140mph  |
| Insurance group   | - |
| Fuel consumption  | - |
| Price when new  | £49,995 (new) |
Dimensions and weight
| | |
| --- | --- |
| Wheelbase              | 2530mm |
| Length | 3998mm |
| Width | 1763mm |
| Height | 1321mm |
| Weight | 1180kg |
Common problems
• An Evo with a sickly powerplant will cost mega money to fix, but if you're feeling flush, Geoff Page Racing can supply a new Evo engine. Beware of oil smoke from the exhaust of an Evo, because the cylinder bores were Nikasil-lined and reboring isn't an option. 
• If the engine is in rude health however, it's cheap and easy to keep it that way because servicing costs are so low – even a full service with a fresh cambelt should be under £400. 
• One of the best ways of ensuring good engine health is an annual coolant change; these all-alloy powerplants need a good dose of anti-freeze so make sure it isn't too dilute. If things have started to get silted up, the radiator is bespoke and a new one is £450. 
• Find out when the cambelt pulley retaining bolt was last replaced; they have a habit of shearing, wrecking the powerplant in the process. 
• The more powerful the engine, the more likely it is to fail. In standard road-going form there was 250bhp on tap, although Ford offered an upgrade to 350bhp for those who wanted more, while a full-blown competition engine could be tuned to give over 600bhp. 
• Regardless of the state of tune, it's important that you ascertain how much use any car has had, and whether the miles have been racked up on the road or the track. A high-mileage road car may well be in better condition than a low-mileage example that's been caned on the track. 
• The most likely engine malady is a worn turbo: if a car has been driven hard but not left to idle for a few minutes before switching off, the turbo's bearings will be cooked. A standard rebuild is £350, but an upgraded (stronger) unit is £600. 
• ECU upgrades are also desirable; the original EEC-IV system is crude and doesn't allow the BDT engine to give its best. Most owners opt for a bespoke system by MBE for around £3500, but an alternative (and much more costly) system is offered by Pectel, which is best suited to competition use. 
• Considering what the transmission has to endure, it's amazing how few problems it gives. The gearbox itself is strong and unlikely to need attention. A specialist charges £300 to strip and inspect a gearbox, but if any parts are needed the costs add up quickly because it's getting ever harder to track down fresh components. 
• The clutch is also tough but it will need replacing at some point. It's a standard £500 AP unit and is a doddle to change as it was designed to be done in 15 minutes in the pits. A decently equipped workshop can do the job in a couple of hours. 
• The potential weak spot is the propshaft, which features a bearing that can wear. When it does, you'll feel a vibration at a fixed road speed; renewal is a £400 touch. 
• Standard RS200s featured conventional rubber-bush suspension, while Evos had a rose-jointed set-up. The latter is expensive and more difficult to repair, but it does include extra goodies like adjustable anti-roll bars. Neither set-up gives trouble; even with hard use there are no weak spots. 
• The steering is similarly hardy, with the standard unassisted rack unlikely to give problems. However, for comfort you can fit a power-assisted Sierra rack.
• The brakes are straightforward too. The pads may have worn but at £150 for a set that's not an issue. The ventilated discs are £150 apiece – but they are freely available and easy to fit yourself. 
• Corrosion isn't an issue and, surprisingly, accident damage rarely rears its ugly head. New panels are available and, unless a car has been comprehensively trashed, it just gets rebuilt with new parts. If an RS200 was to be more or less destroyed, a whole new tub would be a problem but Arch Motors can usually repair a damaged item. 
• The RS200's electrical system is simple and reliable, while the interior trim is bespoke but durable. There are unlikely to be any problems with any of it, aside from the possibility of worn seats. You'll struggle to find any parts for these, which is why most owners simply slot in a fresh set of Recaros or get the existing ones retrimmed. 
Model history
March 1984: First prototype is completed
November 1984: RS200 debuts at the Turin Motor Show
September 1985: RS200 wins its first race, the Lindisfarne Rally
October 1985: First production cars are built
January 1986: Last cars are made, the final 20 being 2.1-litre Evos
1990: Final cars are delivered, having been rebuilt and resold
Owners clubs, forums and websites
• www.rs200.org – RS200 enthusiast club and website
• www.rsownersclub.co.uk – Ford RS Owners Club
Summary and prices
As a road car the RS200 makes only a certain amount of sense. If you're going to buy one, it ought to be for at least some track use. An RS200 should be bought in the certain knowledge that its neck will be wrung every time it's taken out. Not only is the RS200 fast and accomplished when you give it its head, but the cars are amazingly strong. In Group B rallying the RS200 could be broken but you're unlikely to have anything go wrong on road or track in normal use. 
Even more appealing are the running costs. Many of the non-specialised parts were from Ford's road cars, so they're often ultra-cheap. Even better, no special tools are needed to maintain an RS200, which is why many owners do their own maintenance.
There's a steady demand for RS200s, because they're perfect for track days. Expect to pay £80,000 for a well-maintained example that's ready to roll. A decent Evo is another level, at around £150,000-plus, while the ceiling is much higher for an ex-competition car with an interesting history. There's a strong demand for low mileage collector-grade cars too, and in an auction situation the sky's the limit for one of these.