Mercedes C-Class gets performance tweaks with Brabus B30 and D30 models
The Mercedes C 300 and C 300 d have been revised inside and out by German tuner Brabus - but no AMG-based model just yet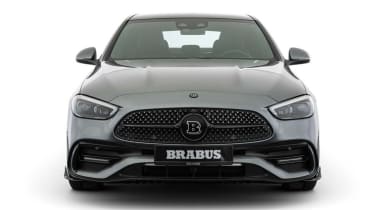 1/9
The current Mercedes C-Class is one of the most luxurious and comfortable compact executive cars on sale, but that's not stopped long-time Mercedes specialist tuner Brabus from making changes in the name of performance. 
This isn't the first time Brabus has fettled with a Mercedes C-Class with the C 3.6 of 1988 representing the first time Brabus turned its head to the saloon car. Since then we've seen Brabus modify various iterations of the already tuned AMG C-Class, including the 780bhp, twin-turbo V12-engined 'Brabus Bullit Coupé 800' from 2012. 
This pair of new Brabus-modified C-Class cars highlights the more moderate side of the scale; with the full-fat AMG C 63 version not yet released, the current petrol-powered C 300 and diesel C 300 d in both saloon and estate guise form the bases of Brabus's latest creations. 
Bar for the badging both look identical. On the outside Brabus has kept it subtle with winglets on the lower corners of the front bumper, side skirts and a new lip spoiler on the bootlid - all helping to reduce lift at high speeds, says Brabus. There are also new LED fog lights and the cars' quad exhaust tips are finished in black chrome. Forged Brabus wheels finished in exclusive "Signature Black" complete the exterior look. 
Powering the new Brabus B30 is a 2.0-litre turbocharged four-cylinder petrol engine producing 296bhp and 450Nm of torque (42bhp and 50Nm more than the C 300). This results in a 0-62mph time of 5.8 seconds, 0.2 seconds quicker than the standard car it's based on. The top speed remains at 155mph. 
The diesel-powered D30 uses the 2.0-litre four-cylinder turbodiesel engine from the C 300 d, and like the B30 it gets a bump in power - this time to 306bhp and 600Nm of torque. Again, 0.2 seconds is shaved off the 0-62mph time with the D30 taking 5.6 seconds for the benchmark sprint. Power from both powertrains is sent to all four wheels through a nine-speed automatic transmission. 
Chassis tweaks are limited, but Brabus has fitted sport springs for the suspension, meaning the ride height can be reduced by up to 30 millimetres. It's not yet clear if this adjustment is a direct result of the new springs, or can be dialled in manually or electronically.
Brabus has equipped both the B30 and D30 with its 'Masterpiece interior'. This includes carbon-fibre door sill trims with illuminated Brabus logos, aluminium pedals and Brabus floor mats. 
Pricing for both cars hasn't been announced, but we expect them to cost well over the C 300 and C 300 d's respective starting prices of £44,595 and £47,000. 
Keen for more Brabus news? Check out the new Brabus 900 XLP here…