Porsche 911 - best rear-wheel-drive cars
It's the definition of a sports car, and the latest model is the best-handling one yet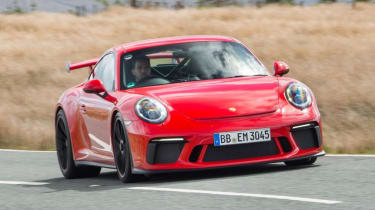 Few cars have the illustrious history of the 911. While the earliest examples had a reputation for knife-edge handling - and the widowmaker monicker was something that could be levelled at plenty of the later high-performance models - over 50 years of development by Porsche has transformed it into one of the greatest sports cars on the planet.
The current 911 is the '991.2' generation. That '.2' signifies the last update to the range, which added turbochargers across the board, not just for the high-performance Turbo-badged models. This update was an emissions-led change, but it hasn't neutered the 911 in any way. The reality is that any 911, from the entry-level Carrera to the ultra-exclusive GT2 and GT3 models, is a hugely entertaining drive, with engaging handling and fantastic responses.
All that weight over the rear wheels boost acceleration, while the rear-engine layout as steadily moved forward to improve the 911's balance. Today, it could still get tricky in the wet, but most of the time the 911 is simply an enjoyable rear-drive coupe that can be used everyday.