Best used mid-size 4x4s and SUVs
The Renault Kadjar is the best used mid-size SUV in our Used Car Awards 2020
Best used mid-size 4x4 and SUV: Renault Kadjar
Our pick: Renault Kadjar 1.5 dCi Dynamique Nav (2016/16, 57k miles, £7,900)
Renault hit the jackpot with the Kadjar. It's based on the Nissan Qashqai's platform, and it feels similar to drive, but there's more space on offer; Renault fitted more storage bins around the SUV's cabin and increased its boot capacity by 42 litres over the mechanically similar Qashqai's, to 472 litres.
Its cabin is well built and hard-wearing, with plenty of tough plastics down low and soft-touch materials in your eyeline. If your budget can stretch to a 2018 model, you'll also get Renault's revised R-Link 2 infotainment system, which is an improvement when it comes to ease of use and response.
As with most cars in this segment, the Renault's handling isn't particularly involving, but it always feels composed. What the Kadjar lacks in driver involvement it makes up for in refinement, because wind and road noise are relatively well contained.
There are petrol engines on offer – an older 1.2-litre turbo in pre-facelift cars and a 1.3 in later models – but while both are smooth, quiet and easy to drive, we'd opt for a diesel. When the Kadjar was launched, the market was focused on diesel, so there's much more choice. Dynamique Nav trim is the one to go for, so hold out to find a car that meets your requirements.
Renault's 1.5-litre four-cylinder diesel is adequate. Although performance is only modest – 0-62mph takes 11.7 seconds – the power delivery is smooth, refinement is good and, if you're careful with the throttle, it should return upwards of 60mpg.
The dCi 110 offers flexibility, and benefits from low road tax costs if you go for one registered before 2017. Good-condition 2016 models with fewer than 60,000 miles on the clock can be had for £8,000.
Finance options
You can't get many desirable new cars for £200 per month on PCP finance. However, that's more than enough to get a four-year-old Kadjar. Expect to pay around £174 per month with a £1,000 deposit for a 2016 model from BuyaCar.co.uk on a three-year contract. That means all-in finance costs of £7,264. Just remember that if you want to own the car, you'll need to pay a further £4,731 when the contract ends.
Commended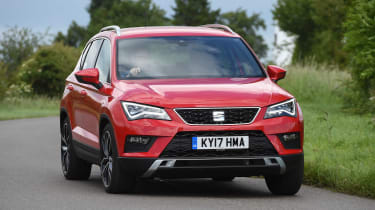 If you want a good blend of style, space and quality, the Ateca is a top choice. It's also reasonably fun to drive thanks to its range of peppy engines, precise steering and good body control. The trade-off is a slightly firmer ride over rutted surfaces – but it's a small price to pay if you value driver involvement.
Left-field choice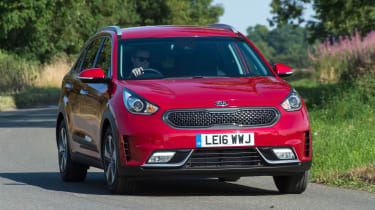 The Niro occupies a unique place in the market, because it's available with three levels of electrification – hybrid, plug-in or all-electric. It's the hybrid we'd go for because early cars are now hovering just above £11,000. That's an affordable price for a modern hybrid SUV with some great tech