Lamborghini Aventador vs Miura and Countach
Does the new Aventador live up to Lamborghini legend? We test it against its classic predecessors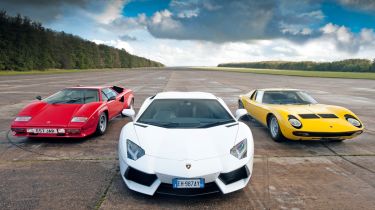 Lamborghini has created some of the world's fastest, most exotic cars. Yet this iconic company, with its famous raging bull badge, was founded after a disagreement between a pair of rich Italian industrialists.
Ferruccio Lamborghini's tractor business was booming in the late fifties, but he wasn't happy with one of the Ferraris he'd bought with the proceeds. Lamborghini took his complaints to Enzo Ferrari, who scornfully brushed them aside. So Lamborghini started his own car company in 1964, and two years later unleashed the world's first mid-engined supercar: the Miura.
It become a pin-up for adoring car fans – as did the later Countach – and made Lamborghini synonymous with dream cars.
The Miura and Countach started a lineage of outlandish V12 supercars that, via the Diablo and Murcielago, continues today in the incredible Aventador. So what better way to mark its arrival than by bringing it together with its most famous forebears?
Verdict
The magic of Lamborghini is alive and well. This upstart supercar company never had the motorsport pedigree of Ferrari or Porsche, but the Miura and Countach cemented its place among the dream car brands.
Today, the incredible Aventador proves the raging bull is still among the elite. It's hard evidence that the company can still produce jaw-dropping supercars that deliver the same combination of unmistakable styling, bold design and blistering performance.
The Aventador is light years ahead of its predecessors with its interior quality, ease of driving and technology – but the brash looks echo the Countach and the advanced chassis evokes the spirit of the Miura, so the lineage going back to these wonderful classics is clear to see.