Ford Escort XR3: we drive the hot hatch pioneer
Hot hatches democratised performance, and one of the pioneers, the Ford Escort XR3, is now over 40 years old
Hot hatches: they're an established part of the motoring landscape, blending real-world practicality with sports car pace. Ford has been at the forefront of hot hatches in the UK for decades, but the most recent RS and ST-badged Focuses and Fiestas owe their existence to one car, the Escort XR3, which celebrated its 40th birthday last year.
No one really knows where the XR badge came from, although it first appeared on the Mercury Cougar XR7 from Ford's US brand in the late sixties. In Europe, at least, bosses were in consensus that Ford should move away from its clichéd 'S' brand in the wake of the launch of the Volkswagen Golf GTI.
So there was the desire to launch a new sub-brand, while a replacement for the rear-wheel-drive second-generation Escort was required. That was no mean feat, because the front-drive Mk3 not only lacked the sideways flair of past models, but also had to appeal to traditional saloon car buyers who were having their heads turned by new hatchbacks. The result was a car with a short rear bustle, but that tiny bootlid was where Ford would cement its hot-hatch aspirations.
Base models achieved Ford's targets of a 12 per cent aerodynamic improvement over the Mk2, but that bootlid enabled designers to fit a rear spoiler. This improved aero further, and it also inspired a generation of car enthusiasts.
Built in Germany but developed with the aid of computers in Essex, Michigan in the US, and Cologne, the XR3 was an instant hit, and represented one in 10 Escort sales. The mix of iconic 'cloverleaf' alloy wheels, chin spoiler and Porsche 928- inspired sports seats captured the public's imagination. It wasn't perfect, though: despite Bilstein being drafted in at the last minute to tweak the suspension, the ride was firm.
That changed in 1982, when Ford's UK Special Vehicle Engineering arm, headed by Rod Mansfield, stepped in. The team had made a name for itself with the Fiesta Supersport and Capri 2.8 Injection of 1980 and 1982 respectively, and was told to improve the XR3's weak points, as well as fit the fuel-injection system its rivals were increasingly boasting.
Rod tells us: "The XR3i was quite an easy project to make significant changes to with good effect." While the headline work centred around the Bosch injection system, Rod's team transformed the car's image. "The XR3 had strange camber: positive at the front, negative at the rear, which made it look knock-kneed. Suddenly the car looked better," Rod says.
This change took a handful of engineers just a few months, but they didn't stop there. The team designed a new exhaust and cooling system to help it withstand the kind of high-speed thrashing that this new breed of affordable performance cars was subjected to. The anti-roll bars were revised, and the ride height was reduced.
"The car came at a time where that kind of project was growing in popularity," Rod recalls. "Unsurprisingly, the Golf [GTI] featured strongly in our plans; it was the car we were out to beat. I really enjoyed that project. Any unbiased observer who drove the XR3 would think 'ho hum', but when they jumped into the XR3i, it was a more sporting car, and felt more of a piece. It does all you want it to do, but in a nice way."
Partnership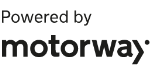 Need to sell your car?
Find your best offer from over 5,000+ dealers. It's that easy.
The impact of Rod's team's changes was immediate, with sales increasing significantly. But more importantly, fuel injection and the small yet potent letter 'i' gave the hot Escort the kudos and modern edge that was required of a hot hatch. The blueprint was sealed, and the car captured the imagination of enthusiasts up and down the country. It was cheaper than the Golf GTI, and appealed to blue-collar petrolheads upgrading from Mk2 Escorts.
Buoyed by the XR3's success, Ford launched six more XR models in the eighties, all coming through the SVE team at Dunton, and covering Ford's three mainstream model lines: Fiesta, Escort and Sierra. Then in 1990, the XR4x4 arrived. This was arguably the biggest XR stretch yet, because unlike the older XR4, which had a bespoke three-door bodyshell, the XR4x4 was based on a regular five-door car, albeit with a four-wheel-drive system from Ferguson.
In all guises, though, XR showed the performance-car buyer that fast Fords remained in reach. The rubber spoilers and air dams, stripes, stickers and Recaro seats cemented the hot hatch formula, which continues to evolve to this day. Ford's parts interchangeability meant that upgrades could easily be swapped into lesser models, and the number of cars sporting extra foglamps and reflectors, anti-static strips and huge audio upgrades meant XRs remained the doyen of the car-modifying scene for years.
Sadly, values of these cars plummeted in the late nineties and 2000s, so many of those that hadn't been stolen (security was a Ford weak point in the early eighties) or crashed rotted away quietly. As a result, there are thought to be fewer than 1,200 XR Fords of any description left on the road.
How does the XR3 stack up today?
"Wow, I haven't seen one of those for years. My dad used to have one." As we roll Stuart Holdway's XR3 into position for our photoshoot, a pair of enthusiasts jump out of their car to admire the immaculate Sunburst Red Ford. It's a very common occurrence, according to Stuart, with people being transported back to when cars like this were ten-a-penny.
Stuart is the textbook Ford man. He left school and headed straight to work in the bodyshop at his local Ford dealer, eventually becoming manager. "I was at the launch of this car at the dealership," he recalls. "I thought, 'Wow! That's a sexy hatchback.' Back then, you were really something if you had an XR3."
One look around Stuart's almost better-than-new XR3 shows his love of the eighties is clear. He's got a set of period-correct waffle-pattern rubber floor mats ("as rare as rocking-horse poo"), and the dealer sticker in the rear window is a replica of those supplied by his former employer.
Stuart has owned dozens of Fords in his time, and a few years ago his interest in the XR3 resurfaced. "I was looking for more than a year, until one appeared in Truro, Cornwall" he tells us. Stuart headed down with his wife, combining the car hunt with a holiday, but the XR3 was rougher than he'd expected, so they headed back empty-handed.
The day after they returned, the red car you see here was advertised in Berkshire, just 10 miles away from Stuart's home. This one was all that you could hope for in a classic: no crash damage, welding or rot, three previous owners and a history folder the size of a phone book, complete with the original bill of sale. It cost just £4,395 back then – a fair way off today's agreed insurance value, which is well into five figures.
Not that Stuart has any intention of selling it; with just a handful of early carburetted models left on the road, and even fewer in such perfectly original condition, finding another may simply not be possible. Since Stuart has owned the car, it's needed a little bit of polishing and some minor fettling, but has benefitted from being correctly stored by the previous owner.
Time to see how all that care has paid off. Turn the key with a couple of prods of the throttle to get the carb into its stride, and we're running. The unassisted steering is surprisingly light at low speeds, and the clutch is easier than you might expect. Driving this around town is no chore.
On the move, the steering lacks precision around the dead-ahead but weights up nicely as you apply lock, and the thin rim of the small-diameter wheel adds to the experience. A Golf GTI or Renault 5 GT Turbo might offer more delicacy, but it's not often any 38-year-old car will be driven hard.
With such criticism about the XR3's ride quality, I was concerned the experience might begin to unravel. But on a fairly smooth road the Escort felt no worse than a modern hot hatch, although that may well be more due to the 60-section tyres. Stuart wasn't so sure the experience would be the same on scarred asphalt: "The suspension is awful," he reckons. "It slides, glides and bounces over the road, and that strange camber doesn't help."
What we can both agree on is that the brakes are ineffective by modern-car standards. But the XR3's compact dimensions (it's 10cm shorter and narrower than the current Fiesta ST) make it feel wieldy, plus those slender A-pillars afford strong forward visibility.
Ford has learned a lot in 40 years when it comes to interior ergonomics. The optional electric windows fitted to Stuart's car feel like they're installed back to front. "There's not a single part that you'd take forward to a modern Ford," Stuart jokes.
As is so often the way with classic cars, the XR3 is comprehensively outclassed, objectively, by more modern machinery. But as I thumb through that old copy of Jackie as Level 42 plays through the stereo, I'm transported back to a time and a place that's long gone, but fondly remembered. For me, it was seafronts and shopping centre car parks; for Stuart, it's back to his early bodyshop days. And the XR3 will mean a thousand things to a thousand other people, too.
A brief history of XR Fords
1980: Ford Escort XR3 Mk3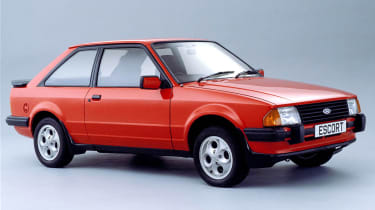 First XR-badged Ford in effect replaced a slew of RS-badged models to be the only sporting car in Ford's range. It was an instant hit.
1981: Ford Fiesta XR2 Mk1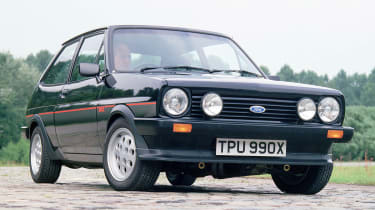 Original XR2 was based on the 1300S, but saw an increase in engine capacity to 1.6 litres, although the stiffened suspension stayed unchanged.
1982: Ford Escort XR3i Mk3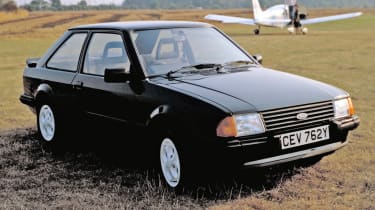 Under Rod Mansfield's SVE division, the fuel-injected XR3i received a slug more power and much-needed revisions to the suspension.
1983: Ford Sierra XR4i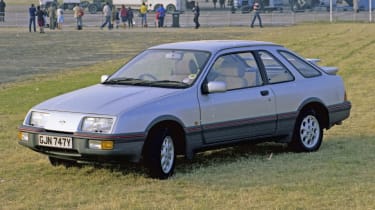 The XR4i received not only a biplane rear wing, but also a unique three-window side treatment. Power came from a 2.8-litre V6 from the Capri.
1984: Ford Fiesta XR2 Mk2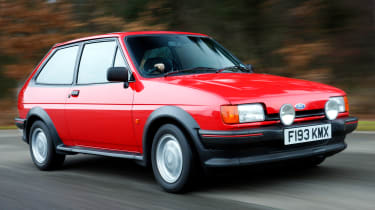 While the XR3i moved to injection, the Mk2 XR2 remained carb-fed, but felt as eager and raspy as its black cladding and low-profile rubber suggest.
1985: Ford Sierra XR4x4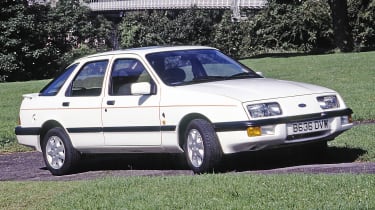 The XR Sierra lost its bespoke bodyshell in 1985, but gained a Ferguson-designed permanent four-wheel-drive system with a 34:66 front/rear split.
1988: Ford Escort XR3i Mk4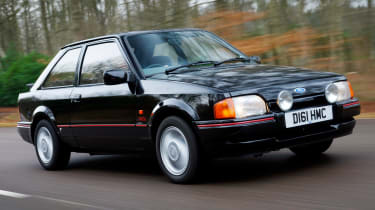 The Mk4 XR3i never achieved the sales success of its predecessor. It was more refined and efficient, although barely any quicker from 0-60mph.
1989: Ford Fiesta XR2i Mk3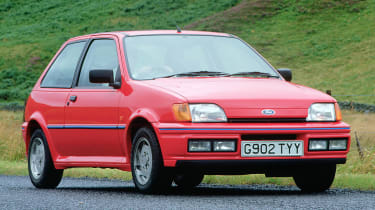 Fuel injection finally came to the XR2 in 1989 and despite more weight, it was the fastest Fiesta yet. It paved the way for the RS Turbo.
1992: Ford Fiesta XR2i 16v Mk3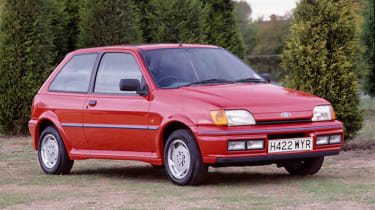 Equipped with a 16-valve head, the 1992 XR2i was quick, but lacked the finesse of the Peugeot 205 GTI and pace of the Renault 5 GT Turbo.
1992: Ford Escort XR3 Mk5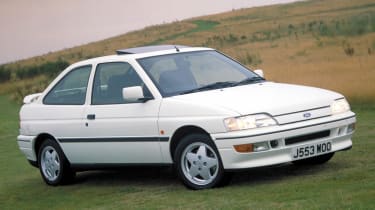 XR's swansong missed the mark, despite new Zetec engines. While Ford gradually improved the Mk5, it wasn't much better than the Mk4.
Click here for our list of the best modern-day hot hatchbacks...