Best approved used car scheme: Kia Approved Used
Everything you need to know about Kia's Approved Used scheme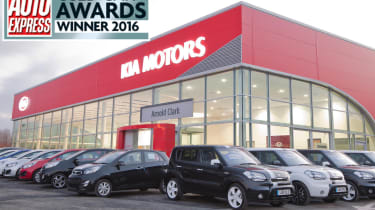 We reckon Kia has the best approved used scheme in the UK, as it comes with the longest and most impressive list of features and benefits.
However, only cars up to 18 months old and with no more than 18,000 miles on the clock are available through it. As a result you'll have to buy a newer, more expensive model than you might at the Ford or Honda dealer round the corner.
• Used Car of the Year 2016: Kia Sportage
Still, the fact that Kia will sell you a used car with the same seven-year/100,000-mile warranty on it as a new model (the whole seven years, not just the balance of it) is really impressive.
It's not as if Kia is skimping elsewhere to offer this protection. You still get Europe-wide breakdown cover and accident management, as well as the usual checks for finance, crash damage and clocking.
But the brand edges ahead when it comes to the exchange policy as you have 60 days instead of the more usual 30. You also get seven days' insurance cover when you buy, and if your car fails its MoT after routine servicing at a franchised dealer, Kia will pay up to £500 towards the cost of repairs.
Kia Approved Used: key facts
| | |
| --- | --- |
| Max Age/Mileage | 18 months/18,000 miles |
| Breakdown Cover | 12 months |
| Exchange Policy | 60 days or 1,000 miles |
| Standard Warranty | Seven years/100,000 miles |
| Extendable Warranty | No |
| Website Link | http://www.kia.co.uk/kia-approved-used-cars |