Mercedes-AMG C63 - best rear-wheel-drive cars
Heavy metal coupe packs huge V8 punch for a thrilling drive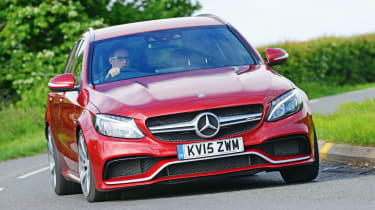 There's nothing like a thumping V8 under the bonnet, and AMG's 4.0-litre twin-turbo in the C 63 is one of the best in the business. It sounds mega, from a bassy rumble at idle to a hard-edge racing note at max revs, and it delivers massive punch. With 503bhp, the S model is rather traction limited when the electronic aids are switched off, and you'll need to get a loyalty card from your local tyre fitter if you do frequent smoky burnouts.
But rein in the power, and the C 63 is a great all-round super coupe. It doesn't quite have the track-focused edge of a BMW M4 Competition Pack, but it'll suit most needs. The seven-speed gearbox is great to use, while the cabin has the classy fit and finish you'd expect of a £60k+ Mercedes.
Even better is the fact the C 63 comes in a variety of guises. There's the aforementioned S model, a standard car with 'only' 476bhp, and both are offered in saloon, coupe, cabriolet and estate body styles.