A plug-in hybrid Skoda Kodiaq could be on the way
The next generation of Kodiaq could include a PHEV variant, but only if it's permitted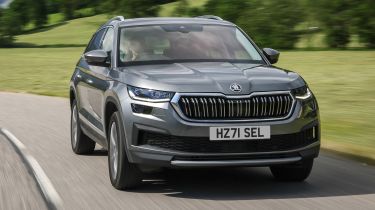 Skoda is actively considering adding a plug-in hybrid variant to the line-up of its next generation of Kodiaq - but will only commit if legislation and incentives allow it.
Speaking at the brand's annual press conference, outgoing Skoda CEO Thomas Schäfer said that PHEVs are "a very expensive way of bringing down CO2 and fuel consumption" but despite having previously dismissed any prospect of a Kodiaq PHEV, he also mentioned the model when listing vehicles where Skoda has plug-in technology. When asked to clarify, Schäfer admitted, "We keep looking at it. The outlook in the EU really doesn't help, because plug-in hybrids won't be supported in the future. That makes it very difficult to get incentives for  this car. It's immense cost to bring it to the vehicle if there's then no market for it."
With normal model lifecycles, the next-gen Kodiaq would be due before the end of 2024. It's likely to keep its base on the existing MQB platform, but it could get access to the new, final generation of combustion engines that will be introduced on Audi's A4 in 2023. These include four-cylinder petrol motors that are all but certain to be adaptable into plug-in hybrid powertrains.
Schäfer said the timeframe would, in theory, still allow Skoda to decide to offer a Kodiaq PHEV - alongside the next-gen Superb PHEV and the current Octavia plug-in - if legislation and incentives make it viable. "The technology is available in the group, and the platform is available," he said. "We just had the facelifted Kodiaq last year so we would still have the time to decide if we go for it on the next car."