BMW Z3: Buying guide and review (1996-2002)
A full buyer's guide for the BMW Z3 (1996-2002) including specs, common problems and model history...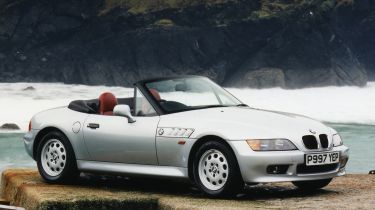 Looking for a usable sportscar that won't rust, break down and is fun to drive, with top notch parts availability? Then you'll be needing a BMW Z3, offered with a range of robust and efficient four or six-cylinder powerplants, each equipped with a slick gearbox, beautifully weighted steering and anti-lock brakes which were just one part of a suite of safety features to keep things shiny side up.  
Better dynamically than its reputation would have you believe, the Z3's rear suspension was criticised in period, but offers a surprisingly good amount of grip and consistency – just don't expect to be cosseted. The front of the car was based around the E36 3 Series' MacPherson strut set-up, giving a capable overall balance.  
• Best cars for £5,000 or less
The engines are the high spot though, especially the straight-sixes for which BMW is famous. Even the 2.0-litre lump is smooth and muscular, but go for one of the 3.0-litre units and you'll always have ample power; the M Roadster is even more pokey, and as the ultimate Z3, it's sure to become the most collectible variant of all.  
Styling was charmingly retro, with over-exaggerated bulges, curves and some familiar looking grilles in the front wings.  
Which BMW Z3 to buy?  
There are many different variants to choose from, making the Z3 an interesting choice. If you're looking for performance, then we'd advise you stay away from the four-cylinder models.  
With a 140bhp 1.9-litre four-cylinder, the entry-level Z4 should have been entertaining. Sadly, the 1164kg kerb weight severely punishes the car's performance. A four-pot Z3 will be an easier and cheaper car to buy and run, but it's the big sixes that are more of a joy to drive. 
Following on from the 1.9 was an entry-level 1.8-litre, which is seriously underpowered at 116bhp, as well as a more appealing 2.2-litre straight-six.  
From launch, the 2.8-litre Z4 was actually quicker than the comparable Boxster, and provided a silky smooth engine note, great power delivery and outright performance the roadster really deserved. Later 2.8 and 3.0 models also got a better version of VANOS. 
For genuine performance, then you have the ultimate Z3 – the M Roadster. Being a genuine M-Sport model, it got a more sophisticated rear suspension system and an absolute belter of a 321bhp engine. These are rapidly appreciating classics though, and tracking down a good example is an expensive business (see prices section below).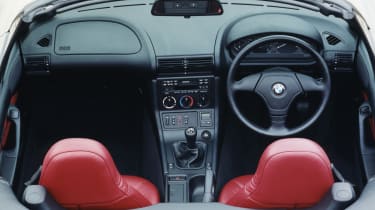 Sourcing the 'breadvan' M Coupe is another option for the drivers out there. It went on sale in 1998, and offered a considerably better driving experience, as well as quirky sporting estate styling. This interesting body style was only available in high-performance M-specification in the UK.  
One useful option for anyone wanting to use a Z3 Roadster throughout the winter months is the extremely rare aluminium hard top. It was an expensive when new, and it can be a pain to remove and store (as with most hard tops), but is certainly worth considering.  
BMW Z3 performance and specs
Model
BMW M Roadster
Engine

3201cc, 6-cylinder DOHC

Power
321bhp @ 7400rpm
Torque
258lb ft @ 3250rpm
Top speed
155mph
0-60mph
5.4sec
Fuel consumption
23mpg
Gearbox
Five-speed manual
Dimensions and weight
Wheelbase
2446mm
Length
4050mm
Width
1740mm
Height
1293mm
Kerb weight
1360kg
BMW Z3 common Problems  
• Corrosion: check the bodywork for corrosion. There shouldn't be any if the car has been well cared for, but accident damage or neglect can lead to issues. Age is also starting to take its toll on some early cars, with rust most likely to bubble up around the boot lock and mirror bases. Bumpers are plastic, so check for minor knocks and scrapes – although repairs are relatively cheap and easy.  
Partnership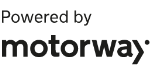 Need to sell your car?
Find your best offer from over 5,000+ dealers. It's that easy.
• More corrosion: under the skin there are some more potential areas for corrosion to take hold, such as the diff and rear subframe mounting points. These have also been known to crack if driven hard throughout its life. Check that the inner wings and boot floor are straight and true, as crumpling probably points towards a minor knock at some point. 
• Seals: check with the owner that the car has had new seals around the doors and header rail at some point. If not, look for signs of perishing and a damp interior. It's unusual for hoods to need replacing, but the plastic rear window can become translucent with age. Polishing it can generally bring it back however.  
• Engines: although the six-pot engines are more interesting, the four-cylinder engines are very much the sensible and reliable choice. The most common problem is generally a failing oxygen sensor, which will throw up an engine warning light or fail an MoT emissions test. Also listen out for a noisy timing chain.  
• Non-M engines: the non-M Six-cylinder engines have a few more issues to be aware of, such as the Nikasil cylinder liners. These caused issues in the 1990s due to high-sulphur fuel supplies, but the majority of engines were fixed under warranty. US cars were fitted with a cast-iron block engine, which doesn't suffer the same problems.  
• Waterpump: overheating can also be a problem, thanks to an under-specced plastic waterpump, so ensure there are no signs of headgasket failure.  
• Engine block: a strong iron block engine was used in the M Roadster and M Coupe models. Some early engines suffered from big-end cap failure, writing off the engine in the process. This should have been rectified under warranty when new, but be sure to check.  
• Variable valve timing: clever VANOS system, BMW's version of variable valve timing, is a known weak spot point. If it is on the way out, you will be able to hear a grumbling sound during acceleration. The power delivery will also feel a little flat. It can be very expensive to replace, although some specialists know the system well and can repair certain parts for considerably less.  
• Flywheel: dual-mass flywheel can and will eventually wear out. Genuine BMW parts are expensive, but aftermarket parts can bring down the cost significantly.  
• Steering: all cars come with a speed-sensitive PAS system, which is trouble free. Watch out for fluid leaks and torn gaiters. Track rod ends wear out regularly.  
• Wheels: fitting bigger alloy wheels is a very common modification, but can lead to poor ride quality, especially if the suspension has also been lowered. Sticking with a standard set-up is advisable, unless you know exactly what you're looking for. Look out for poor quality replica wheels, which are often of dangerous quality.  
• Keys: when checking through the documentation, check to see that the car comes with a spare key, and that it works. If you lose the key it's an expensive job to reprogram the car to a new set of keys.  
BMW Z3 model history  
January 1997: The Z3 is launched with a 1.9-litre engine. 
December 1997: 2.8-litre six-cylinder Z3 is offered 
January 1998: The Z3M Roadster arrives, with a muscular M3 engine, wide bodywork and beefed-up suspension. 
September 1998: Tin-top Z3M Coupe, nicknamed 'Breadvan', goes on sale. 
April 1999: New 1.8 and 2.0-litre engines are introduced to replace the 1.9-litre unit. Some subtle styling changes are made, including new rear lamps, bumpers and wheel arches. 
June 2000: The 2.8-litre engine is upgraded to 3.0-litres. 
October 2000: Larger 2.2-litre is phased in to replace the 2.0. 
February 2001: Both the 2.2 and 3.0 models can now be bought with sports suspension, 17-inch wheels and upgraded seats. 
June 2001: A new 1.9 Sport Roadster is introduced, with a similar spec to the 2.2 and 3.0 model.  
BMW Z3 owners clubs, forums and websites
• www.zroadster.net• zroadster.org• www.z3mcoupe.com• www.bmwcarclubgb.co.uk• www.bimmerforums.com• www.bmwownersclub.com 
BMW Z3 summary and prices  
If you're expecting Mazda MX-5 levels of engagement and driver satisfaction, then you might want to look elsewhere, but the BMW Z3 roadster is a classy and interesting weekend cruiser. The M Roadster and M Coupe are an absolute hoot to drive, but are expensive to run and buy.  
You will pick up the best normal 2.8 or 3.0-litre six-cylinder cars for around £5000, although there are many on the market for less than £3000. Four-cylinder cars offer the best value. The M-roadster is likely to set you back between £14,000-£18,000, like the M Coupe, but later 2001-2002 models with updated S54 engine are still closer to £30,000.
Thinking of buying a future classic? Then take a look at these potential future classics...