BMW 335d SE Coupe v Mercedes CLK320 CDI Sport
Is BMW's all-new 3-Series coupe a more tempting buy than its oil-burning Mercedes CLK rival?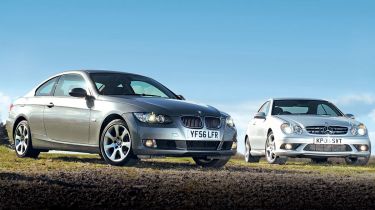 No one likes to compromise, particularly when it comes to buying the car of their dreams. But with petrol prices showing little sign of dropping, the improved fuel economy of diesel has become an increasingly attractive proposition. Yet surely that means having to make concessions?
For all the manufacturers' talk of performance and refinement, oil-burners will never be a match for their petrol counterparts, right? Well, not if the BMW 335d Coupé has a say in the matter. True, it produces 20bhp less than the equivalent 335i petrol variant. However, with an extra 180Nm of torque to call on, the derv model's claimed 0-60mph time is only 0.4 seconds slower, and it is capable of travelling eight miles further than its counterpart on a gallon of fuel.
We tested – and have already been wowed by – the 335i in Issue 929, so the diesel has a lot to live up to. Yet, with a twin turbocharged engine (the most powerful straight-six diesel in the world, BMW says), it promises much. Of course, few car makers build four-seat premium diesel coupés. Audi is soon to launch the A5 but, in the meantime, the biggest threat to BMW's supremacy in this sector comes from Mercedes-Benz. The CLK320 CDI is also powered by a 3.0-litre engine although, with only a single turbo, it can't match the 335d's output. However, its refinement, image and style will really test its rival. Here we plan to find out not just which is the better to drive, but how economical and cost-effective they are, too.
Verdict
This test certainly proves that the German manufacturers have the premium four-seater coupé market sewn up – the CLK and 3-Series Coupé lead the way in terms of style, quality and driving dynamics. With the imminent launch of the A5 – Audi's response to these two models – buyers will be further spoiled for choice.
But for now it's up to Mercedes and BMW to fight it out, and the winner's rosette has got to go to the 335d Coupé. It's an excellent all-rounder, with a fine blend of comfort and driver involvement.
From behind the wheel, the BMW is a more engaging car than the CLK, and it strikes a better balance of comfort and dynamics. The 3.0-litre straight-six engine is superb, and makes the twin-turbo BMW one of the most desirable oil-burners we have ever driven.
However, the CLK finishes a strong second. When it comes to covering big motorway distances, it's a superbly cosseting machine. But while it's effortless to drive, it doesn't feel so nimble, and the engine is not as refined.
Ultimately, the Merc is simply not as rewarding. It is also more expensive, and doesn't boast the same standard level of kit.