Mazda 2 vs rivals
Mazda is looking to make a big impression in the supermini class. Can it beat the Peugeot 207 and Vauxhall Corsa?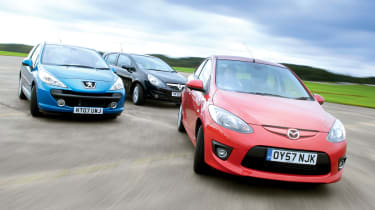 It's horrible being the odd one out. And with its frumpy compact MPV dimensions and staid personality, the original Mazda 2 was completely at odds with the company's Zoom-Zoom marketing campaign, as well as the driver focused image of the rest of its model range.
Crucially, the car never appealed to young European buyers in the way that many of its key supermini rivals did. So right from the outset, Mazda's designers have tried to make sure its replacement offers some of the excitement of its sister models, the RX-8 and MX-5.
On sale in UK dealers now, Japan's latest small car clearly means business with its vibrant looks and enhanced driving experience. And it also bucks the recent European trend, which has seen superminis becoming bigger and more mature. The latest 2 is smaller than the previous generation, and lighter, too. But the question is, will that prove a drawback as it meets two of its key competitors?
The Vauxhall Corsa is our current class leader, thanks to its winning combination of excellent build quality, low running costs and neat design. Meanwhile, Peugeot's 207 is refined and smooth to drive – especially as it now benefits from an all-new 1.4-litre petrol engine, which it shares with the MINI One.
We put this trio of superminis to the test to see if Mazda's strategy has paid off. Are we looking at a new champion? Let's find out how the new 2 faces up to the competition on UK roads.
Verdict
The supermini sector has a new leader. Mazda has trodden its own path with the 2, and the result is a stylish and very tempting package.
Not only is it lighter and more compact than rivals, the new model also comes across as more individual and enjoyable. Admittedly, it can't quite match the 207's excellent ride and refinement, but it betters the French model in most other areas. Make no mistake, with its distinctive design and fresh feel, the Mazda is a cracking small car.
The second shock of this test is that the 207 gets the better of the Corsa. We should stress that this is a one-off. It's due not so much to the Peugeot's new and improved engine as the fact that the 1.4 SXi is the weakest model in the whole Corsa range, because of its puny powerplant and firm ride. We still rate other versions of the Vauxhall ahead of the latest Lion.