MINI Clubman vs rivals
Road test editor Oliver Marriage and family try the new MINI Clubman for size. We find out if it's as versatile as the Peugeot 207 SW – and enough of a leap over the MINI hatch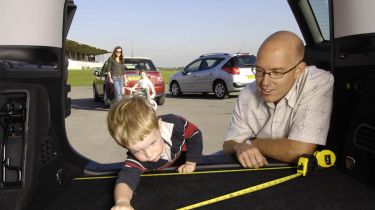 Thinking of buying a MINI Clubman? If you saw our exclusive test in September, you'll already know we rate the newcomer. It's great to drive, affordable to run and attracts plenty of attention.
But there's one question we have yet to fully answer: how practical is it? The firm claims the Clubman adds a new dimension to the MINI experience by being longer, more versatile and better suited to family life. Yet can it justify its £1,210 premium over the standard MINI? And more importantly, does it have the flexibility to rival other small estates? Here the MINI Cooper Clubman goes up against a Peugeot 207 SW and a Cooper D hatchback.
BMW and Peugeot's engine co-development programme means the Cooper and SW use the same 1.6-litre, although the 207 is £1,000 cheaper. There's less between the two MINIs – the Clubman is only £45 more than the diesel hatch. Having the two together will allow us to judge the differences in performance, economy and running costs, plus interior packaging.
Verdict
You won't be surprised to learn that in a test which emphasises practicality, the MINI hatch finishes last. It's a superb car in many ways, especially with this diesel engine – but not if you regularly have to carry more than two people.
If the result of this head-to-head was decided solely on space and versatility, the Peugeot 207 SW would clean up. It has a well thought-out load bay, offers much more carrying capacity than the Clubman and its conventional door layout is far easier to use. In comparison, the new MINI estate demands a few compromises – it's no bigger inside than a 207 hatch, let alone the station wagon. But that's not to say it gives only a passing nod to practicality.
There are many useful features and stowage areas, and although the innovative doors could be dismissed as a gimmick, they're also entertaining to use and help to add an extra dimension to the whole MINI experience.I