Supermini duel
Hyundai has big ambitions to raise its profile in every new car sector, but it's thinking small with its latest model. Is the i10 a true contender in the city car class? We pitched it against the accomplished Fiat Panda to find out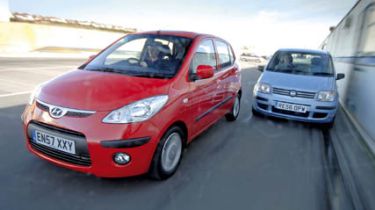 Small, basic and affordable, but spacious, fun and stylish, too. The list of key attributes for a great city car is lengthy. And with buyers demanding more equipment, safety and refinement than ever from these models, the task of designing a class-leading contender isn't an easy one.
But Hyundai believes that is exactly what it has done with the new i10. It's the replacement for the ageing Amica, and it promises to have more space, plus better quality, equipment and refinement than its predecessor, while offering a fun driving experience as well.
Powered by a revised version of the 1.1-litre petrol engine used in the Amica, it's available in three trims – Classic, Comfort and Style. We try the mid-spec £7,095 model here.
However, the city car class is highly competitive, and there's no deadlier rival for the new Hyundai than Fiat's Panda. The Italian is fun, funky and roomy, and despite being four years old and barely changed since its launch, is still at the top of its game. Here we feature the 1.2 Dynamic, which has an almost identical power output to the 1.1-litre Comfort, but is £500 more expensive.
The question is, does it justify its bigger price tag? And if so, is it still the best budget city car money can buy? The Hyundai looks set to push it all the way.