Lexus IS-F vs rivals
The new Mercedes C63 AMG and Lexus IS-F promise to shake up the super-saloon market. We pitch them against BMW's latest four-door M3 and our current class leader, the Audi RS4, to see which delivers the most driver thrills..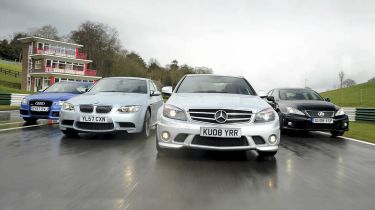 A grand total of 32 cylinders, 14 exhausts, 16 seats, 27 gears, 19 litres of engine capacity and 1,696bhp. All split between four compact executive cars. Welcome to our super-saloon shoot-out.
What's most surprising is that three of these models are brand new and previously unseen in the UK. Step forward the Mercedes C63 AMG, Lexus IS F and BMW M3 saloon. Our fourth contender needs no introduction. The Audi RS4 officially disappeared from price lists when the new A4 went on sale last month, yet it remains one of the best fast four-doors ever made, and sets a high benchmark for these three pretenders. It's never been beaten – but has it now met its match? The Audi is no longer the most powerful machine around. That honour belongs to the 6.2-litre Mercedes, which develops a huge 451bhp. Historically, though, the company's AMG tuning arm has struggled to deliver cars that cope with corners as well as they do straights.
The IS F is the wild card. Lexus products have never shown the slightest hint of sporting prowess, yet this model looks set to upset the establishment. And firmly in its sights is the BMW M3 saloon – the fourth generation of the car that started the hot saloon ball rolling in 1986. We have Cadwell Park race track in Lincolnshire at our disposal, so which super-saloon rules the roost?
Verdict
So keenly fought was this test that it took two full days' driving and assessing before we could pick a winner. Covering lots of miles in these hot saloons was no hardship, yet it demonstrates how evenly matched our quartet is.
Any of them would be great to own, but the Lexus missed out on a podium position. Although it's a stunning first effort that proves the brand can build entertaining fast cars, the IS F needs more work in a couple of key areas.
The Audi has fallen from first to third. Age has not diminished its abilities in any way, as the RS4 serves up thrills almost as ably as the cars that beat it. But it was edged out by the BMW as the M3 saloon is cheaper and has more forgiving suspension than the coupé that lost to the Audi last year.
Our winner is the C63. While its chassis isn't quite as talented as the M3's, it's more fun to drive more of the time. That tips the balance in the Merc's favour.