Subaru vs Saab Estates
Turbo specialists Subaru and Saab have finally woken up to the potential of diesel engines – but who has got it right? We put the new Legacy and 9-3 estates head to head.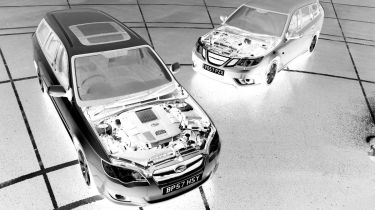 SUBARU and Saab are two car makers rightly famed for their turbocharged petrol engines.
The Japanese marque made its name by being a dominant force on the world rally scene. Its motorsport success was reflected in the sales figures for the Impreza Turbo, WRX and STi.
Meanwhile, Saab was an early adopter of turbo technology, with the Swedish firm's forced-induction 99 model first hitting the streets in 1978. But have these two companies been able to bring this experience to bear on diesel-powered cars?
Saab was certainly quicker on the uptake than Subaru, although it wasn't until the arrival of the first-generation 9-3 in 1998 that a Saab-badged bonnet covered an oil-burning powerplant.
Still, by comparison Subaru has dragged its heels over derv development, leaving it wide open to criticism that it has missed the boat completely. But now, finally, a diesel engine has found its way into one of its models – the Legacy, tested here in Sports Tourer RE-n guise.
The unit is certainly unique; it's the first horizontally opposed 'boxer' to appear in a passenger car. Developing 148bhp and 350Nm of torque, it's claimed to have a low centre of gravity and be both light and responsive.
Saab's answer to the diesel issue is also innovative. The flagship 9-3 model you see here features twin turbos mated to a 1.9-litre General Motors-sourced unit, giving 178bhp and 400Nm.
You will have to pay a fair amount more for the privilege of Saab ownership, though: the base bi-turbo 9-3 comes in at a hefty £26,345, compared to £19,995 for a diesel Legacy.
So which marque has managed to better translate its turbo experience into diesel expertise? We find out as the two load luggers go head-to-head.
Verdict
FOR a company that ignored diesel until now, Subaru's new oil-burner is very impressive. The flat-four has a similar offbeat note to the petrol, and revs smoothly, plus is very well mannered. If you've considered a Subaru but were put off by thirsty powerplants, have a look at the Legacy – it's a very likeable and capable car that drives well.
But it's not a rival for a genuine compact executive model – the quality and attention to detail aren't good enough and, although it is spacious and well equipped, it looks expensive in top-spec trim.
Under GM's management, Saab has undoubtedly lost some of its individuality, but this 9-3's twin-turbo engine is undeniably strong. If Saab could reduce its coarseness, it would win hands down.
As it is, the verdict isn't clear cut. Neither car was as frugal as hoped, while the Legacy feels slightly old- fashioned and the 9-3 has lacklustre road manners. As such, we would not rush to recommend either.
We've sided with the Saab here because, although less practical than the Subaru, it's better to live with day to day, more economical and faster, plus it's only a fraction more expensive to run despite its substantially higher list price.