Citroen Berlingo vs Peugeot Tepee
France is famous for its impressionist painting. But has it also turned family transport into an art? We test new Citroen and Peugeot MPVs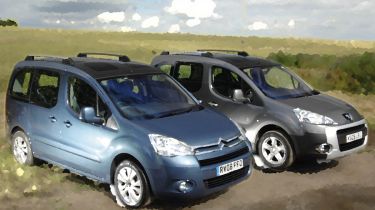 When the French paint a picture of their perfect family car, it's bound to make a big impression. But could the Citroen Berlingo Multispace and Peugeot Partner Tepee ever be considered works of art?
Launched in 1998, the quirky-looking duo pioneered the budget MPV concept with a no-nonsense formula that promoted function over form. Sharing the same small van platform, they served up an unrivalled blend of space and versatility at bargain prices.
Both were unexpected sales hits – around 15,000 examples of the Multispace found homes last year alone! Neither car was perfect, though. The humble origins meant the models were more electricians' van than electrifying to drive. But that's set to change with the latest arrivals, which sit on the Citroen C4 and Peugeot 308 platform – so the Berlingo and Partner should be more car-like to drive.
Inside, there's more space for passengers and luggage, while better-quality materials now feature throughout the cabin.
This greater sophistication means a step upmarket. The most pricey Peugeot now costs around the same as Ford's entry Mondeo – a car that isn't short of` space or talent. Yet the originals' utilitarian charm hasn't been forgotten. Lower-spec models still blend space and value well.
As the two cars are so similar, and their ranges near-identical, we pit the low-power diesel Multispace VTR against the £3,000 more expensive Partner Tepee Outdoor flagship. Which approach works in this market: bargain basement or high spec?
Verdict
Both these models are excellent alternatives to traditional family cars, and are as characterful as they are spacious. For the price, the Berlingo offers unmatched carrying capacity, while the basic spec and versatile interior make it the spiritual successor to the firm's legendary 2CV.
But for many owners, the Citroen's sparse equipment and underpowered diesel will come as a shock. Drive the Peugeot and it's immediately clear that you're not making as many compromises. The engine provides strong performance, the list of standard kit is long and the driving experience is far removed from any van.
On top of this, it comes with the same flexible interior and huge boot as the Berlingo. At £15,305, it's straying into Renault Scenic and Ford C-MAX territory – although neither can match the Partner's vast interior and boot.