Honda CR-Z vs. rivals
Honda claims its new CR-Z hybrid offers a sporty driving experience as well as planet-saving efficiency. We test it against two top diesel rivals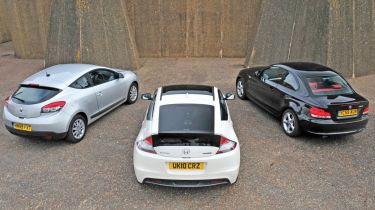 Fast, frugal and fun; Honda's new CR-Z aims to be all three. Nothing unusual about that, but the coupé has a hi-tech hybrid powerplant – which normally focus on low emissions and big economy.
So does the CR-Z live up to its billing?
The petrol-electric drivetrain produces 122bhp, and claimed fuel economy of 56.4mpg. It propels the CR-Z from 0-60mph in less than 10 seconds, while a manual gearbox – a first for a hybrid – points to an entertaining driving experience.
For the CR-Z's first group test, we've lined up two cars that offer a similar mix of pace and efficiency. Renault's Mégane Coupé comes with a 1.5-litre dCi diesel, and promises to be even more economical than the Honda, and put out less CO2.
A nimble chassis, value for money price tag and practical interior take care of the rest.
The third car in our line-up is the BMW 118d Coupé. It offers low emissions and impressive economy in a premium package, and it's close on price to the top-spec CR-Z GT tested here. All three cars provide different driving experiences with the same aim in mind. The question is, which one does it the best?
Verdict
The Honda CR-Z is an interesting proposition. As a signal of what is to come for new car buyers, it's a promising statement. The trouble is, it doesn't fully deliver.
For starters, it's left trailing in the efficiency stakes. Great fuel economy and low CO2 emissions are meant to be one of the unique selling points of hybrid cars, and while the Honda is still reasonably green, it's no match for its diesel rivals here. The handling is only average, too, rather than sporty as the firm claims. Lesser variants make more sense, but the CR-Z is roundly beaten in this test.
In second place is the BMW. It's unquestionably the best driver's car, with a balanced rear-driven chassis and the most powerful engine. Great residuals and an attractive fixed price servicing deal add to the appeal. But it's not as tempting as the Renault.
The Mégane instantly seizes the green initiative, returning an incredible 53mpg during its time with us. Its dCi diesel also emits the least CO2 – yet this doesn't come at the expense of pace. Plus, the Renault is fun to drive, affordable and practical. It takes the win by a healthy margin.