Ferrari F355: Buying guide and review (1994-1999)
A full buyer's guide for the Ferrari F355 (1994-1999) including specs, common problems and model history...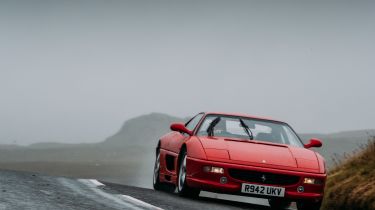 Let's just go straight to it: the Ferrari F355 is one of the best cars ever to have come out of Maranello. The 355 replaced the rather lacklustre 348 and was a distinct improvement in both looks and dynamic ability. A quantum leap, if you like.  
When it went on sale in 1994, the F355 had the interesting task of moving Ferrari forward as a serious volume manufacturer. In a post-Honda NSX world, sports cars could no longer afford to be the unreliable or cumbersome to drive, and while the F355 might have been an evolution of the 348, it was a game-changing proposition from Ferrari.  
The mid-mounted, dry-sumped, flat-plane V8 borrowed the then-latest Formula 1 technology, featuring five valves (three inlet, two exhausts) per cylinder and producing 380bhp at a screaming 8250rpm, which equates to 109bhp per litre – and that was the highest specific output for a naturally aspirated car at the time. 
With a 0-60mph sprint time of 4.6 seconds and a top speed only a gnat's shy of 180mph, the 355 is a searingly fast sports car. It's also widely considered to be the last of the traditionally beautiful Ferraris, and although styling is largely subjective, any petrol head would be hard to argue against the 355's slender, delicate Pininfarina styling.  
The Ferrari has a beautifully restrained interior too, and it just fits. Climb over the wide sill and you find yourself seated low with feet slightly offset, but visibility is fine and, when the V8 starts, the sound is intoxicating at the steady yet busy idle.  
You can drive a 355 fast and comfortably at normal revs, keeping the engine below around 5000rpm, with the adjustable suspension in 'comfort' mode. The controls are accurate and communicative, the clutch is a bit long of travel yet sensibly weighted, and the manual gearbox is a delight. 
Because you sit well forward, with the engine screaming behind you, the Ferrari seems to swivel from your hips, and it feels planted. But switch the suspension to 'sports' mode, allow the rev counter to breach that 5000rpm mark and the car comes on cam properly.
It's fast; reactive, angry, howlingly, road-munchingly fast. The super-sharp – if rather light – steering, massive ATE brakes with ABS, fat 225 and 265/40 tyres and that perfectly balanced chassis make it all seem very easy. The F355 does exactly what you tell it to do.
One of the best cars of the 1990s? Not only that, but one of the very best Ferraris ever…
Which Ferrari F355 to buy?
Built between 1994 and 1999, this Pininfarina-penned Ferrari was the first of the marque to sell more than 10,000 examples. Starting out in Berlinetta (GTB) and Targa (GTS) forms, the full convertible Spider coming a little later.
The six-speed electrohydraulic manual transmission was made available from 1997 – as the F355 F1 – as an option to the regular F355 six-speed manual. This automated manual 'box was capable of super-quick shift times when new, however feels a little but old fashioned when compared to the lightning-quick modern dual-clutch 'boxes. It takes a bit of time to learn how to get the most out of it, but it's pretty dood when you are used to it.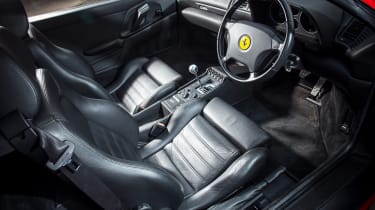 There is also an altogether more hardcore option, in the form of the F355 Challenge racer, although these are restricted to track use and are surprisingly rare. 
Ferrari F355 performance and specs
Engine

3495cc V8, five-valves per cylinder

Power
380bhp @ 8250rpm
Torque
268lb ft @ 6000rpm
Transmission

Six-speed manual, six-speed automated manual 'F1' gearbox

0-60mph
4.6secs
Top speed
183mph
Insurance group
20
Fuel consumption
20mpg
Price when new
£83,031
Dimensions and weight
Wheelbase
2451mm
Length
4249mm
Width
1900mm
Height
1171mm
Weight
1350kg
Ferrari F355 common problems 
• General: the 355 ushered in a new generation of more reliable Ferraris, but there are still many things to look out for when you are buying a used example.  
Partnership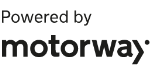 Need to sell your car?
Find your best offer from over 5,000+ dealers. It's that easy.
• Engine: despite the complexity of the engine, it is actually surprisingly durable if serviced well. There is an issue with some engines, where the soft valve guides wear, causing the engine to burn oil. This generally only affects earlier pre-1996 cars, although no engine is immune. A compression test can identify any problems and is a must on any purchase.  
• Engine fires: although rare, there have been a few cases of engine bay fires. Ferrari issued two recalls to fix the possible causes, so you should check that these have been carried out. The worst thing is a car that is used infrequently with little servicing. Perishable items such as fuel hoses are usually replaced as part of a comprehensive service. 
• Exhaust: the F355's catalytic converters are very expensive to buy from Ferrari, and are often replaced with straight-through pipes. If this is the case, it won't pass a UK MoT test, so you should make sure that the cats are included with the car. It can be good for bargaining if this is not the case. If the originals are not working properly, specialists can rebuild them. Still an expensive job, but much cheaper than buying new replacements. 
• Manifold: exhaust manifolds can, and eventually will crack. Listen for the usual ticking or blowing sound. This is why you might find aftermarket manifolds from the likes of Tubi on a lot of cars. The original Ferrari manifolds were notoriously weak, but can be repared by a good specialist. The repaired manifolds longevity depends on the quality of the repair, but have been know to outlast the originals. 
• Targa tops: while the targa-topped GTS model offers a nice compromise between the full coupe and Spider, the roof can pose a few problems. Seals can leak, causing water to get into the interior. If the car is only ever used in the dry, and is parked in a garage, it can go unnoticed until it gets caught in an unexpected shower. New seals are expensive, but keeping everything well lubricated with silicone will slow down any degradation, and will also help it to seal better. Roof squeaks can usually be cured with careful lubrication of the latch mechanisms.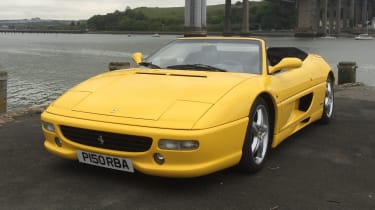 • Corrosion: the oldest 355s are now more than 20 years old, which means that corrosion is already a surprising problem on higher mileage cars. The worst (and most unsightly) area is where the buttresses meet the rear wings. This seam flexes and the moves over time, causing cracks to form and letting moisture get in. Most cars will have this problem to some degree, but a recent respray is always a positive point. 
• Sills: if you see a rusty sill, then don't panic. These are non-structural covers, and can either be removed and refurbished, or even replaced with carbon fibre replacements. A small amount of surface corrosion on the inside of the wheelarch lips is normal, as this area can take some punishment from small stones. It can usually be rectified regularly at a small cost. 
• Subframes: perhaps the most important area to check for corrosion is the rear subframe, which is exposed to the elements, and is a tricky and expensive repair if it does need doing. Getting the car on a ramp, and having a good poke of all the joints. It's also worth identifying any areas of surface corrosion, which is to be expected on a car of this age, and treating it before it develops.  
• Trim: interiors are generally reasonably hard wearing, but can become a little bit rough around the edges. Check how the rubberised coating on the centre console trim is holding up, as this is very expensive to replace properly.  
• Dashboard: cars from hot climates can often suffer from UV damage to the leather on the dashboard. The only option is to recover the dash. It might be good to do this at the same time as the seats, which often need attention to the worn bolsters. 
• Roof mechanism: if looking at a Spider model, then it's important to ensure that the electric roof mechanism is operating correctly. If it isn't working correctly, one possible problem is that the seat potentiometer (which is part of the roof's in-built safety mechanism to prevent damage) has packed up, which can be a expensive job. Alternatively, the hydraulic roof motor has failed, which is considerably more difficult and expensive to remedy.  
Ferrari F355 model history 
May 1994: Ferrari F355 Berlinetta and targa-topped GTS model goes on sale.
1995: F355 Spider, a full convertible model, is launched. F355 Challenge also introduced.
1996: Minor ECU change brings in a mildly re-configured airbox arrangement, and airbag steering wheel.
1997: Automated manual F1 gearbox introduced, with paddle shifters.
1999: Ferrari F355 production ends.  
Owners clubs, forums and websites 
• www.the355.com – Fantastic resource for F355 owners• www.ferrariownersclub.co.uk – UK-based Ferrari owners club• www.clubscuderia.co.uk – International forum, for owners of all Ferrari models• www.eurospares.co.uk – Specialists in affordable parts and service items 
Ferrari F355 summary and prices 
The F355 was one of the most popular Ferraris when it was new, and prices have never particularly dipped to the level of the previous 308 and 348 models due to continued demand. Today prices start from around £75,000 for a higher-mileage example, probably with the less desirable F1 'box, while £100,000 will get a very presentable example. Up to £135,000 is paid for the absolutely top-class cars, although some dealers might ask even more.
Thinking of buying a future classic? Then take a look at these potential future classics...