Ford Popular 100E and 107E: Buying guide and review (1953-1962)
A full buyer's guide for the Ford Popular 100E and 107E (1953-1962) including specs, common problems and model history...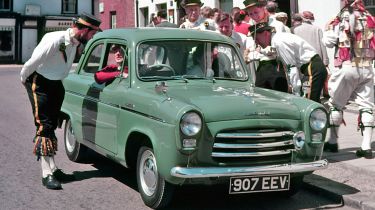 Sedate cruising is perhaps what the Ford Popular is best at today. Its basic '50s charm is endearing, but if you need a motorway cruiser or something to blow away the cobwebs on a Sunday morning, we'd recommend looking elsewhere.  
That doesn't mean the 100E and 107E Populars can't be fun, and in fact the low limits, easy maintenance and largely affordable prices, there's little that can compete at this level.  
In its day the Popular was a hugely popular method of transport for the masses; almost 100,000 were churned out every year. To be so popular they can't have been too bad, although they were definitely 'of their time'. Nowadays they're all but forgotten – but that does mean that you can have the genuine affordable classic car experience.
When the 100E arrived in 1953 to replace the 'sit-up-and-beg' Anglia and Prefect, it seemed to be from another planet. The outgoing car had beam axles, mechanical brakes and a separate chassis; this new car dispensed with all those things, although unfortunately it did carry over the side-valve engine.
It's this that reduces the 100E's usability and there are other aspects too that require regular attention. But there are plenty of reasons to love these charming small cars – as long as you're in no hurry. 
Which Ford Popular to buy? 
To modify or not to modify, that is always the question. In completely standard form, the 100E and 107E is really not much fun outside of town, and even keeping up with modern traffic will be a struggle. To find a modified car is not uncommon, as fitting the later 1.2-litre engine from the Anglia 105E will make a significant improvement in performance.  
Any performance modifications should be matched by a few other safety-focused upgrades too, such as better brakes and even wider tyres. Most upgraded cars were probably put together at home by previous owners, so quiz them on how it was done, as well how long ago it was.  
On the other side of the argument however, the classic Ford scene does value originality. If you're not bothered about originality, then it does mean that you'll probably get a better deal, however cars in perfect original condition have more potential for increased values in the future.  
Most classic cars feature mechanicals that will easily outlast the bodyshell but it's the other way round for these cars. The bodyshell is normally much more durable than the running gear so you need to focus on wear rather than corrosion when buying.
With few of these cars now covering a significant mileage each year, even weak components such as the rear axle and engine will last many years between overhauls. Interior trim is very basic, and dashboard components last well. Seats and carpets can be re-trimmed easily too, with specialists offering new reproduction parts.
If you do buy one of these cars, a copy of Jim Norman's book Technical Tips for the 100E and 107E will make life easier. Published by the Ford Sidevalve Owners' Club, it's full of useful information to make the ownership experience easier.  
Ford Popular performance and specs
Model
Ford 107E
Engine
997cc, in-line four-cylinder
Power
39bhp @ 5000rpm
Torque
56lb ft @ 2700rpm
Transmission
Three-speed manual
0-60mph
27.2sec
Top speed
74mph
Fuel consumption
38mpg
Dimensions and weight
Wheelbase
2210mm
Length
3804mm
Width
1543mm
Height
1492mm
Weight
755kg
Ford Popular common problems 
• Corrosion: thick metal body panels mean terminal corrosion is unusual, while parts and spares availability is better than you might imagine. But you still need to check everywhere for rust, starting with the top of each MacPherson strut mounting; any repairs must be seam-welded, so check previous restoration work carefully. 
Partnership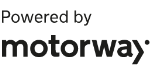 Need to sell your car?
Find your best offer from over 5,000+ dealers. It's that easy.
• More corrosion: the inner wings also corrode along with the bottom edges of the front outer wings and the seam where these meet the front valance. Also check the sills, rear spring hangers and jacking points along with the door bottoms. Finish off by inspecting the inner and outer wheelarches, front and rear valances and spare wheel well. 
• Engine: a 100E engine typically lasts no more than 40,000 miles between rebuilds, and that's with 3000-mile oil changes. Skimp here and you'll be doing well to get 25,000 miles between rebuilds. The lack of durability is largely down to the fitment of white-metalled bearings, which also increases overhaul costs. Converting to shell-type bearings cuts rebuild costs but not longevity because of bore wear. Fumes from the oil filler cap betray wear; remove the cap with the engine idling, and if the fumes are obvious a rebuild is due. 
• Overhead-valve engine: the overhead-valve 107E engine lasts no more than 70,000 miles between rebuilds so listen for rumbly main bearings. Instead of overhauling the existing powerplant, some owners fit an Anglia 105E unit. 
• Fuel supply: fuel starvation can affect both engines leading to hot starting problems or misfires. The mechanical fuel pump is near the exhaust manifold, which is why the petrol evaporates. Fitting a post-1956 fuel pump usually fixes things; if it doesn't, an electric fuel pump should do the trick.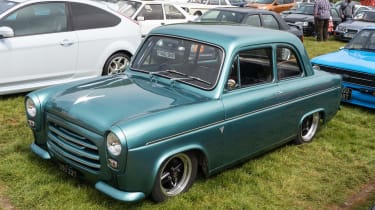 • Gearbox: with a typical lifespan of 40,000 miles, most gearboxes suffer from whining and weak synchromesh. If the car jumps out of second gear a rebuild is on the cards. The gearbox and back axle will last longer if the oil is renewed every 5000 miles; when worn a diff will get really noisy. So many special tools are required to overhaul a 100E diff that you can't really do it yourself, but the 107E is a DIY proposition, which is why some owners fit one of these instead. 
• Clutch: clutch judder is usually down to tired engine or gearbox mountings while worn propshaft universal joints lead to clonks as the drive is taken up. The joints should be lubricated every 1000 miles – but rarely are. 
• Steering: vague steering is common as there are nine grease points in the mechanism, and they should be lubricated every 1000 miles. The steering box also wears, especially if it's been allowed to run dry. Another potential issue is seized ball races in the top mountings of the MacPherson struts, but new parts are cheap and easy to fit. 
• Wheelbearings: rumbling from tired rear wheelbearings is bad news as they run directly within the axle casing, which wears away then has to be sleeved. Nothing can be done to stop the wear, so feel for any vertical movement in the back wheel. 
Ford Popular model history 
1953: The 100E arrives. There are four-door (Prefect) and two-door (Anglia) options.
1954: The 300E, or Thames arrives; it's a 100E van.
1955: There are now lower ratios for first, second and reverse gears, a De Luxe 100E is launched and the 7cwt Thames van goes on sale, alongside Escort and Squire estates.
1957: The 100E gets new tail lights, simpler trim plus a new dashboard, a larger rear window, and a Newtondrive clutchless manual transmission option. The Escort and Squire also lose their wood trim down their flanks.
1958: The Newtondrive option is dropped.
1959: The Anglia, Squire and Prefect are killed off, the Escort replaces the Squire plus the 100E Popular and 107E are introduced. The latter borrows the Anglia 105E's 997cc overhead-valve engine but it's offered in Prefect trim only.
1961: The final 107E is built.
1962: The last 100E Popular is made. 
Ford Popular owners' clubs, forums and websites 
• www.fsoc.co.uk – The Ford Sidevalve Owners Club, looking after all of the basic early Ford models• www.ford100e.com – Technical advice and enthusiast forum dedicated to the 100E 
Ford Popular summary and prices 
These little Fords have a lot of charm, and can be huge fun on a modest budget. Finding a reasonable car for sale is usually straight forward, and although prices are difficult the pin down, you should be able to find a reasonable 100E or 107E from around the £3000 mark.  
There are more expensive cars out there, and while you could easily pay £9000 for a fully restored example, it can pay to wait until the right car comes up at the right money. Projects are also worth considering, but unless you are taking on the work yourself, it will almost certainly work out more expensive.
Thinking of buying a future classic? Then take a look at these potential future classics...