Jaguar C-Type: Buying guide and review (1951-1953)
A full buyer's guide for the Jaguar C-Type (1951-1953) including specs, common problems and model history...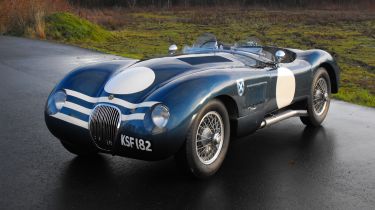 The Jaguar C-Type. Few cars can boast such a rich motorsport heritage. Fewer can claim to have introduced such revolutionary technology that not only helped to win races, but would trickle down into road cars to help improve safety considerably. Few cars can claim to be as beautiful, either. 
Released in 1951, Jaguar's bid for motorsport success started one year earlier. The XK120 had shown potential at the Le Mans 24 hours, so the marque sought measures to reduce the XK's weight and improve its aerodynamic efficiency.
The resulting C-Type (the 'C' standing for 'Competition') housed the running gear of the XK120 in a tubular steel frame, and wrapped it in a more slippery aluminium body. The 3.4-litre straight six produced 205bhp - up 25-45bhp on the standard XK120 unit.
• Best British cars of all time  
The changes had the desired effect, with the C-Type winning on its Le Mans – and indeed its competitive – debut. While two of the three C-Types retired due to a loss of oil pressure, the third car, driven by Peter Walker and Peter Whitehead, won the race by nine laps. 
One year later, the competition intensified with the Mercedes factory entry. The W194 300SL had Jaguar worried, and resulted in hurried changes to the car's aerodynamics. Though this improved top speed along the Mulsanne straight by almost 10mph, the necessary re-routing of the cooling system caused issues, which would prove terminal. As a result, Jaguar's official Le Mans entry in 1952 resulted in three retirements: two cars blew head gaskets, while the third suffered a loss of oil pressure.  
1953 saw Jaguar commit to mechanical improvements much more thoroughly. Power was upped to 220bhp courtesy of triple twin-choke Weber carburettors (changed from the previous SUs) and high-lift cams, while the use of thinner gauge metalwork for both the chassis and body dropped the total weight by around 45kg. The cooling problems of 1952 were found and remedied. 
The crucial change, however was the introduction of a fully-hydraulic disc brake system acting on all four wheels. Though ultimate stopping power was largely similar to drum brake-equipped rivals, the discs were far more resistant to fade, allowing the Jaguar drivers to brake harder and later into the corners lap after lap. As a result, Jaguar took a 1,2,4 finish at Le Mans, with their closest rival five laps down on the winning car driven by Duncan Hamilton and Tony Rolt.
Which Jaguar C-Type to buy? 
Only 53 C-Types were built, so rarity is guaranteed. The later 'lightweight' models developed for the 1953 season are the rarest of all, and therefore command the highest prices.  
Given the C-Type's primary purpose - to win the Le Mans 24-hour race, they should be fairly reliable for their age, especially if used primarily on the road. Given the distinct lack of interior creature comforts, it'll be much more fun to enter the C-Type in a few classic events...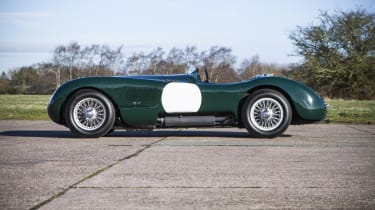 We should of course mention the many replica (or recreation) cars that are hugely popular. As with anything like this, there is a huge variation in price and of course quality – ranging from older and fairly crude fibreglass cars to more recent alloy cars that are almost indistinguishable to the genuine cars. 
Partnership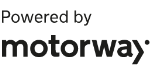 Need to sell your car?
Find your best offer from over 5,000+ dealers. It's that easy.
A few of the names that will crop up while on a search include Proteus, Lynx, Racing Green, Suffolk, TWRR as well as a number of smaller operations. Some look better than others, and many are road legal. Generally the fibreglass cars are the most valuable, with the very best alloy cars commanding more than £100,000. 
Jaguar C-Type performance and spec
Engine
3442cc straight six
Power
205bhp @ 5800rpm
Torque
220lb ft @ 3900rpm
Top speed
144mph
0-60mph
8.1 seconds
Gearbox
Four-speed manual
Dimensions and weight
Wheelbase
2438mm
Length
3988mm
Width
1638mm
Height
1080mm
Weight
965kg
Jaguar C-Type common problems 
● General: the C-Type is such a rare and cherished car, that all should be fairly easy to verify for originality and condition.  
● Cooling: if you intend to compete in classic motorsport events, it's worth bearing in mind that 1952 models suffered from cooling issues in period, while '51 cars suffered a loss of oil pressure - a result of excessive vibration at high revs causing a failure of the pipe connecting the oil pump to the filter. 
Jaguar C-Type model history 
Jun 1951: Made its racing debut at the Le Mans 24 Hours, three C-Types started: two retired, while the third, driven by Peter Walker and Peter Whitehead, won the race.
Jun 1952: Reshaped front end to reduce drag necessitated the need to relocate elements of the cooling system under the bonnet, which ultimately led to mechanical failure of all three factory-backed entries at Le Mans.
Jun 1953: C-Type gains boost in power, lighter chassis and body panels, and brake discs. Jaguar dominates Le Mans, with factory entries finish 1st, 2nd and 4th.
Jun 1954: Privateer C-Type achieves a 4th place finish at Le Mans.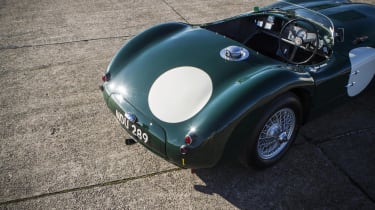 Jaguar C-Type owners clubs, forums and websites 
● www.jaguarheritage.com – the offical archive of classic Jaguars. Can source original numbers, build specs, and can provide information for relevant vehicles via the original records, copies of which can be ordered for £45● www.jec.org.uk – Jaguar Enthusiasts' club● www.jaguarownersclub.com – UK Jaguar owners' club● www.lemanscats51.co.uk – UK club dedicated to C and D-Type Jaguars 
Jaguar C-Type summary and prices 
As such rare cars with a rich motorsport history, it's fairly predictable that C-Types now reach staggering prices on the rare occasions they become available. Values have climbed from 2009 - when a 1952 model owned and raced by Phil Hill fetched $2.53million - up to the most recent in August 2015, when a works lightweight Ecurie Ecosse-run car which finished fourth at Le Mans in 1953 sold for $13.2million.  
Other examples have sold for $3.725million (the final production C-Type, sold at Pebble Beach 2012) and £2.9 million for a 1952 model (December 2013). The last C-Type that sold at auction in May 2016, a factory entry raced at Le Mans in 1952, made £5,715,580.  
Thanks to the limited numbers, huge prices and of course desirability, the C-type has helped to fuel an entire industry dedicated to offering more affordable replica cars. If the £5m-plus asking price of an original seems a little steep, the £50,000 price tag for a well-built C-type replica is quite frankly a lot more reasonable. To buy one new or build one from scratch would cost closer to £150,000, which for many is still a price worth paying.
Thinking of buying a future classic? Then take a look at these potential future classics...