Land Rover Defender number 2million makes £400k at auction
The two-millionth Land Rover Defender sold for a record price at a charity auction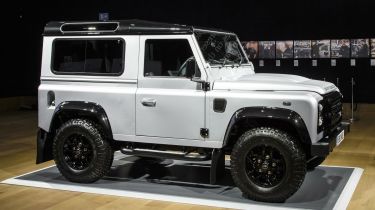 The last Land Rover Defender will roll off the production line in January 2016, with over two million of them sold since 1947. The two-millionth Defender has been sold for a record £400,000, making it the most valuable production Land Rover ever.
Built in May 2015, the Land Rover Defender 2,000,000 was sold to a bidder from Qatar, with the proceeds from the sale going to two charities: the International Federation of Red Cross and Red Crescent Societies (IFRC) and the Born Free Foundation.
• Land Rover Defender: still the best at 60?
Jaguar Land Rover's Special Operations department oversaw this car's production, aiming to turn it into something unique and valuable. It features a handful of one-off features, including logos with '2,000,000' on the back as well as stitched into the headrests, an aluminium plaque signed by those who built the car and a S90 HUE number plate that echoes the famous HUE 166 plate found on the first pre-production Land Rover.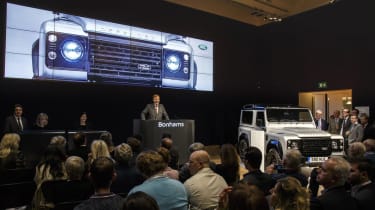 There's also an engraved map of Red Wharf Bay, where the design for the first Land Rover was drawn in the sand by then engineering director of Rover, Maurice Wilks. The car's based on an Autobiography model, which is the top-spec version with leather seats and interior trim.
John Edwards, boss of JLR's Special Operations division, said: "Tonight's sale will go down as part of our history. Of course, Defender has a future and will live on in its own right. But the original Series Land Rovers and Defenders will also continue to thrive through our Jaguar Land Rover Heritage division."
Would you buy a £400,000 Defender? Let us know what you think below...