Nissan introduces new, more powerful diesel for X-Trail
The 175bhp 2.0-litre unit sits above the 128bhp 1.6-litre in the range; order books are open now for 2017 delivery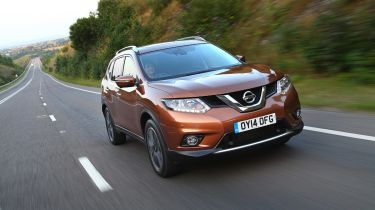 Keen to compete with other large family SUVs, Nissan has launched a more powerful engine for the X-Trail. The new range-topping engine sits above the existing 1.6-litre diesel, and is a 2.0-litre unit offering up 175bhp.
The 2.0-litre four cylinder diesel engine is an engine offered in other markets, but has been upgraded to meet Euro 6 standards. Vice President of Nissan Europe East, James Wright claimed that the addition is about offering "something richer" in the current SUV lineup as that's what buyers are demanding. He cited the fact that over 40 per cent of X-Trails sold are top-spec Tekna grades and come fitted with four-wheel drive, therefore costing over £30,000. The next logical step, therefore, was to introduce a range-topping engine and boost sales further.
The new engine will bring the X-Trail into contention with other high-powered SUV rivals. The Hyundai Santa Fe and Kia Sorento both serve up 194bhp from a 2.2-litre engine, while the Skoda Kodiaq launches with the option of a 187bhp 2.0-litre. By contrast, the X-Trail's current 1.6-litre diesel manages just 128bhp, meaning it's not the best choice for those wishing to make use of all seven seats.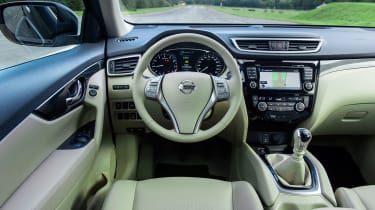 The new engine serves up 380Nm of torque, which should boost the X-Trail's popularity with those wishing to tow a caravan or horse box. That's backed up by a towing limit of two tonnes for manual models, or 1,650kg for automatics.
It's available with either a six-speed manual or a CVT automatic gearbox. The manual is 4WD only, while the CVT comes with a choice of 2WD or 4WD. It's the first time an X-Trail has been available with an automatic gearbox and four-wheel drive.
Fuel economy and CO2 emissions are competitive. The 4WD manual manages 50.5mpg while emitting 153g/km of CO2 - this is only slightly worse than the less powerful 148bhp version of the Skoda Kodiaq, which manages 51.4mpg and 144g/km. Switching to a 2WD automatic X-Trail improves emissions by 1g/km with identical economy, while a 4WD automatic offers up 47.1mpg and 162g/km.
Order books are open now for the 2.0-litre diesel X-Trail, with prices starting at £29,095. The first cars will be delivered early next year.
Would a more powerful engine tempt you into an X-Trail? Leave us a comment below...