Peugeot 208 GTi 30th - best ever Peugeot Sport cars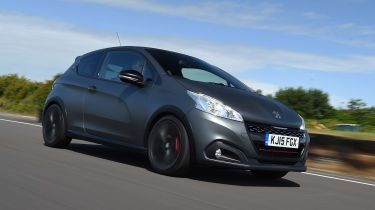 It was fitting that the 205 GTi's 30th anniversary was celebrated with a superb limited-edition hot hatch: the 30th Anniversary by Peugeot Sport. When those 100 limited-edition examples were all sold, today's GTi by Peugeot Sport was born.
Unlocking the talent hidden within the regular 208 GTi, the GTi by Peugeot Sport takes the concept to an entirely different level. More power and torque, shorter gear ratios, a stiffer and lower chassis, stickier Michelin Super Sport tyres, larger Brembo brakes... It's little wonder that the GTi by Peugeot Sport is an altogether sharper and more aggressive hot hatchback than the car on which it's based.
Specifications
Engine: 1.6-litre in-line 4cyl turboPower: 208bhp/6,000rpm Torque: 300Nm/3,000rpm Transmission: Six-speed manual, front-wheel driveWeight: 1,650kg Top speed: 143mph 0-62mph: 6.5 secsBuilt: 2015 to date
Top 10 best ever Peugeot Sport cars