Suzuki Cappuccino: Buying guide and review (1991-1997)
Everything you need to know before buying a Suzuki Cappuccino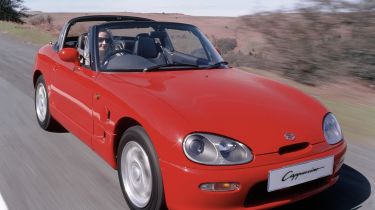 Did you ever want a sports car? One that's smaller, lighter and can fit into the smallest of parking spaces? Japan has been building cars like this for decades, many of which fit into the country's strict Kei car regulations, but these intriguing machines very rarely come to the UK officially. One that did however, was the Suzuki Cappuccino.
Occupying the space below the likes of the comparatively large MX-5, Japan has produced a good number of sports Kei cars, from the Honda Beat and Autozam AZ-1 to the later Daihatsu Copen. Today, you can even buy the Honda S660 – a modern interpretation of the brilliant Beat. 
This interesting niche has been driven by the Japanese Kei-car regulations, which dictate a very specific set of requirements from a car, to qualify for significantly reduced tax, as well as increased city driving privileges. Measuring a maximum of 3.4 metres long, 1.48m wide and up to 2m tall, the general result is a quirky four-seat box which rarely sees success outside of its homeland. However, the tiny footprint allows for a different approach. The combination of low kerb weight and modest power serves up the ingredients for a hugely enjoyable sports car. To this day, the Suzuki Cappuccino remains one of the finest examples of the breed.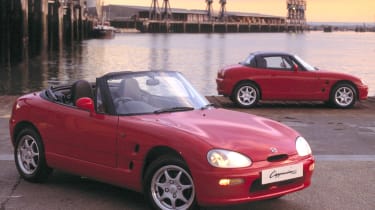 The dinky two-seater boasts the classic sports car layout: the rear wheels are driven by a longitudinally-mounted engine sitting ahead of the driver. The hard-top roof can be either partially dismantled for a T-bar style configuration, or removed altogether for a full cabriolet experience. Once dismantled, it can be stored in the boot with specific bags (though there isn't much room for anything else once it's in there).
Governed by kei-car rules, the double overhead cam three-cylinder engine – an earlier version of the unit used today in the Caterham Seven 160 – displaces only 657cc, with power supplemented by a turbocharger. Thanks to a miniscule mass to lug around (barely 700kg, depending on model), performance is still sprightly despite the modest power output. Even if Suzuki's claims of an eight-second 0-60mph time were perhaps a little ambitious, there's more than enough poke to make the Cappuccino feel genuinely exciting, particularly when the driving position places you inches from the ground. 
It's at its best, predictably, on twisty roads. The skinny tyres offer up an impressive amount of grip, while the steering (power-assisted, depending on spec) feels sharp and precise. The narrow body allows you to pick a desired line within your own lane – an ability all but lost in wide, more modern machinery. 
Living with the Cappuccino is fairly stress-free, with one or two minor caveats: if you're very tall or need to cover motorway miles, it might not be the car for you. Otherwise, it's a fun, reliable, cheap to run – and not to mention, pretty adorable – sports car.
Which Cappuccino to buy?
Produced for six years, with the exception of a mid-life technical upgrade the Cappuccino remained largely unchanged throughout its life. Two trim levels were offered, with higher spec BA versions equipped with a driver's airbag, ABS, a limited slip differential and optional electric door mirrors. 
Partnership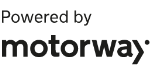 Need to sell your car?
Find your best offer from over 5,000+ dealers. It's that easy.
Shortly after the car was released in Japan, Suzuki UK attempted to seek type-approval to allow the Cappuccino to be officially imported into the UK. First deliveries of the UK-market examples began in 1993, and ran for approximately two years. Of the 1100-or-so units, which were sold here, colour choices were limited to red and silver. Japanese models were offered in eight further shades. 
1995 brought about the most significant update for the Cappuccino. A revised engine switched to chain drive, weighed less than the previous unit, and increased torque from 63 to 76lb ft. Other changes included new alloy wheels, which reduced unsprung weight and the option of a three-speed automatic gearbox.
As with most classics, a full service history will always be desirable. UK models are generally easier to track down evidence of previous work, so buyers looking for pre-update models would be well-advised to go for these. There are currently around 670 Cappuccinos in the UK, more than half of which are declared SORN.
Performance and specs
| | |
| --- | --- |
| Engine  | 657cc inline three-cylinder |
| Power | 63bhp @ 6500rpm |
| Torque | 76lb ft @ 3500rpm |
| Transmission | Five-speed manual |
| 0-62mph | 8.0sec (claimed) |
| Top speed | 85mph |
| Insurance group   | 13 |
| Fuel consumption   | 42mpg |
Dimensions and weight
| | |
| --- | --- |
| Wheelbase              | 2060mm  |
| Length | 3295mm |
| Width | 1395mm |
| Height | 1185mm |
| Weight | 725kg |
Common problems 
• The Cappuccino's gearbox is known to suffer from weak synchros. Fixes are expensive so avoid crunching 'boxes if possible. Though the problems normally occur on second gear, don't worry too much if it's difficult to engage – it's a quirk of most Cappuccinos, particularly when cold.
• The engines tend to be extremely reliable but it's important that they are maintained regularly. Service intervals are a fairly frequent 3000 miles, and a detailed service history will be very handy to help figure out how well the car has been treated. Turbos rarely fail, but keep an eye out for oil smoke from the exhaust.
• Brake calipers can be troublesome, particularly at the rear. There are plenty of specialists who can repair the leaky or sticking pistons. 
• Rust can be an issue with the Cappuccino, as Japanese market cars – where roads aren't salted over winter – don't offer the same level of paint protection. Check the wheel arches for signs of corrosion, and you'll be looking for a healthy coating of waxoil – unless the car hasn't been used during the UK's harsh winter months.  
• Check the condition of the aluminium roof panels. These are stowed in the boot when the car is in its full convertible form, and can be easily knocked and dented. 
• Interiors can become scruffy with miles, although the leather-effect seats do wear reasonably well. Re-trimming is an option – albeit quite an expensive one. Check that all the electrical items are functioning, especially on an imported cars. A number of these would have been fitted with alarms and a rear fog light by the importer, which was occasionally done to a poor standard.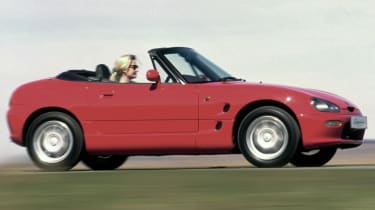 Model history
November 1991: Sales of the Cappuccino began in Japan
October 1993: Cappuccino sales begin in the UK through franchised Suzuki dealers, priced at £11,995
1995: Revisions for 1995 model year include a lighter, chain driven engine, increased torque, lighter alloys and an optional automatic gearbox
1997: Cappuccino production ends
Owners clubs, forums and websites
• www.score.org.uk – Suzuki Cappuccino Owners Register for Enthusiasts
• www.clubcappo.co.uk – ClubCappo, Cappuccino Owners Club
• www.kkitp.com – Kei Car club, with an annual meeting
Summary and prices
Despite the relative rarity, the Cappuccino remains an affordable bundle of fun. A 100,000 mile-plus car in good working order can be bagged for as little as £2000 and – although we would urge caution – viable project cars can be found for even less. Most tidy cars dated between '93 and '95 sell for between £3000-£4000. The later Japanese-only models tend to be the most desirable, with immaculate low mileage examples commanding figures upwards of £10,000.