Vauxhall Insignia Sports Tourer - Best estate cars
The latest Insignia moves upmarket, and an increase in size boosts the estate's practicality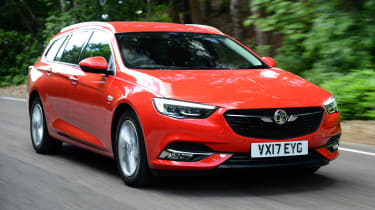 The make-or-break Vauxhall Insignia faces a battle to gain sales in a market where buyers are obsessed with badge prestige or are tempted by the current trend for crossovers. It has been designed to move the model upmarket, so not only does it look sharper, it's bigger, too, and that really benefits the Sports Tourer estate variant.
There's a 560-litre boot out back, but while that's 20 litres bigger than the Astra Sports Tourer, it's no great shakes against cars like the Skoda Octavia and Superb Estates, especially given the Insignia's large overall dimensions.
• Vauxhall Insignia Sports Tourer review
That's because some of the car's length has been given over to rear seat space, although again that's something the Skoda Superb Estate has it beaten for. Fold the seats flat and there's 1,665 litres of space, which is pretty good.
The real highlights of the Insignia are its plush interior and refined engines. The Whisper Diesels are efficient and punchy, and as the name suggests, they're relatively quiet, too. The 2.0 CDTi is available for those wanting a good tow car, while the efficient turbo petrols deliver a good mix of performance and economy.
The cabin is roomy, while tech highlights include Vauxhall's OnStar concierge service, which takes in-car functionality to another level.
Best estate cars to buy in 2019
4. Vauxhall Insignia Sports Tourer
5. Volvo V90