Citroen 2CV, For Your Eyes Only (1981)
BOND FACT: The film's car chases were choreographed by French stunt driver Rémy Julienne.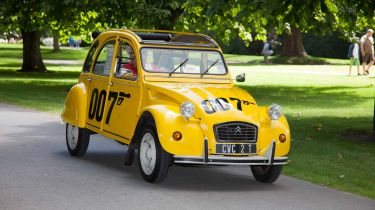 Bond can't always rely on a glamorous supercar and Q's clever gadgets to get him out of a sticky situation. When Bond (Roger Moore) and Melina Havelock (Carole Bouquet) are chased down a Spanish hillside by hired assassins, they have only a humble Citroen 2CV at their disposal.
Despite its unlikely credentials as a getaway car, plus a number of spectacular off-road excursions, the bright yellow machine manages to shake off a pair of pursuing Peugeot 504s, which boast far more power and grip.Yet there's more to this classic Citroen than meets the eye.
For instance, in order to make the chase scenes more exciting, stunt driving maestro Rémy Julienne ditched the standard car's feeble 602cc two-cylinder engine in favour of a more powerful four-cylinder unit from the Citroen GS.
The 2CV was also one of the only Bond cars to spawn a roadgoing version. Launched to coincide with the film's release, the special- edition model was finished in the same yellow paint scheme and featured 007 logos on the doors and bootlid, plus a smattering of stick-on bullet holes. It's now highly prized among 2CV enthusiasts, with mint examples fetching as much as £5,000.
• Aston Martin DB5• Lotus Esprit• Sunbeam Alpine• Aston Martin DBS• Ford Mustang Mach 1• BMW Z8• Aston Martin Vanquish• What the villains drove