New Qashqai+2 vs Mazda 5
Nissan's practical new Qashqai+2 meets the more conventional Mazda 5 in a fight for supremacy in the seven-seat MPV class...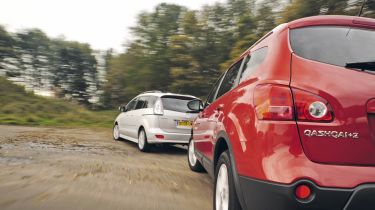 If there's one car that refuses to conform to traditional class boundaries, it's the Nissan Qashqai. When it first appeared last year, the Japanese model turned the family market on its head by mixing a traditional hatchback driving experience with chunky SUV looks.
But Nissan hasn't finished blurring class sectors just yet. The firm has now added an MPV twist to the Qashqai with an all-new seven-seat variant, which is intended to boost the flexibility of the British-built model.
The Qashqai+2 is based on a lengthened version of the standard car's platform, and it squeezes the third row of seats into the boot.
As with the five-seater, the +2 is available with two or four-wheel drive. The additional seats add more than £1,450 to the price of the Qashqai, so our mid-range, front-wheel-drive 2.0 dCi Acenta will set you back £20,149.
At this price, the newcomer will face a whole host of talented compact MPV rivals. And one of the best in the business is the Mazda 5. With its versatile cabin, sliding rear doors and sharp driving dynamics, it proves that family motoring doesn't have to be dull.
Pull out a brochure, and you'll see that the £19,695 Mazda closely matches the Qashqai+2 in terms of space, value and performance. But which car will leave families in seventh heaven?
Verdict
Both of our contenders offer seven seats – but that's where the similarities end.
The Qashqai+2 won't disappoint buyers who want a compact people carrier with a dash of distinctiveness. By adding a third row of seats, Nissan has further boosted the appeal of its crossover model. Its bold SUV-inspired looks haven't been harmed by the increase in size, and neither has the driving experience.
But it's simply not as flexible as the Mazda, which feels as if it has been designed from the inside out. Its cabin is a packaging masterpiece. The rearmost seats provide more room than those in the Nissan, the folding middle bench adds versatility, while the sliding doors are so clever you wonder why they're not in wider use.
Add in the sharp driving dynamics, long list of standard kit and lower list price, and it's a clear victory for the capable Mazda.