Nissan X-Trail SUV gains new more efficient engines
Nissan has revised the X-Trail's engine line-up, with new petrol and diesel options and an all-new dual-clutch transmission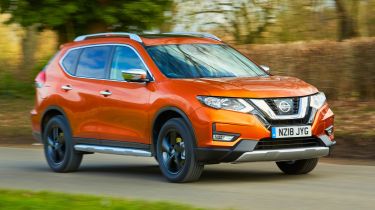 Nissan has announced a new pair of new engines and an all-new dual-clutch transmission for its X-Trail crossover. Buyers now have the choice of either a 1.7-litre four-cylinder diesel or 1.3-litre four-cylinder petrol, both of which have already been employed elsewhere in the Renault-Nissan Alliance line-up - in the Nissan Qashqai and Renault Kadjar SUVs.
The X-Trail's new 1.7-litre diesel engine produces 148bhp and 340Nm of torque. It replaces the SUV's old 1.6-litre four-cylinder diesel, coming as standard with front-wheel drive and a six-speed manual transmission. Nissan claims economy figures of 41.5mpg and emissions ratings of 137–143g/km of CO2.
• Best small SUVs and crossovers to buy in 2019
Buyers can also spec the new diesel engine with four-wheel drive. However, this option has an adverse effect on the powertrain's economy and emissions figures, which fall to 39.8mpg and 151–154g/km of CO2 respectively.
Nissan's new 1.3-litre petrol is only available with the DCT gearbox in front-wheel-drive format. It's performance figures are similar to the 1.6-litre petrol it replaces, with 158bhp instead of 161bhp, and 270Nm instead of 240Nm of torque. Nissan also claims improved efficiency figures of 145–154g/km of CO2, compared to the old engine's 162g/km of CO2.
Prices for the 1.3-litre four cylinder petrol start from £26,590. The front-wheel-drive 1.7-litre diesel starts from £25,795, while the four-wheel-drive version commands an extra £3,200. Both engines are Euro6d-Temp compliant, meaning company car owners will avoid an additional four per cent surcharge over the mandatory Benefit-in-Kind (BiK) tax.
Now read our review of the Nissan X-Trail. Let us know your thoughts in the comments section below…