Renault Fuego and Turbo: Buying guide and review (1980-1987)
A full buyer's guide for the Renault Fuego and Turbo (1980-1987) including specs, common problems and model history...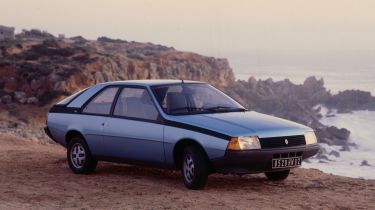 There's something about a coupe that should be so appealing, yet sometimes they fall short of your expectations. Sporty lines, a driver-focused cabin and a decent dollop of performance are what's needed, but in the case of the striking looking Renault Fuego, it just wasn't the complete package.
It was billed as an alternative to more predictable offerings such as the Opel Manta, Volkswagen Scirocco, Toyota Celica and Ford Capri, but this Renault 18-based hatch never caught on.
Part of the problem was the Renault 18 basis; it would be hard to think of a car less suited to the committed driver, even if it's fundamentally sound. For an enthusiast car, the power was sent to the wrong end – and there wasn't much of it if you opted for one of the 64bhp 1.4-litre engines.
The 96bhp 1647cc and 110bhp 1995cc engines were more promising, but the Fuego that everyone covets today is the 132bhp turbocharged 1565cc engined model, complete with 'TURBO' decals, cross spoke alloy wheels and bright yellow fog lights.
With styling by Robert Opron, the designer that also penned the Citroen CX and SM, the Fuego is certainly a looker, and thanks to that hatchback and saloon car platform it's actually surprisingly practical, accommodating four adults along with their luggage. Aerodynamic, stylish and unusual, the Fuego makes a great left-field classic buy, but only if you can find one.
Which one to buy?
It's not hard to work out which Fuego to buy – it's the one that's available and not falling apart. These cars crop up for sale so rarely that you'll probably have to bide your time and be prepared to travel if you want one.
Easily the most collectible, as well as the most fun, is the Fuego Turbo. There are a few of these kicking about as they're the ones that have always been the most sought after. You're unlikely to find one of the more basic editions, which is just as well because you'd only want one of these because nobody else has got one.
If you want something truly bonkers though, track down one of the ultra-rare 2.1-litre turbodiesels. You'll have to settle for left-hand drive though, as these never came to the UK.
Autos are also incredibly rare, as are 1.4-litre cars. As a result, if you can find a Fuego for sale, it'll probably have a manual gearbox and one of the larger engines – if not a turbocharged powerplant – so it should be blessed with reasonably respectable performance.
Performance and specs
Model
Renault Fuego Turbo
Engine
1565cc, in-line 4-cylinder
Power
132bhp @ 5500rpm
Torque
148 @ 3000rpm
Top speed
118mph
0-60mph
9.3sec
Fuel consumption
27mpg
Gearbox
Five-speed manual
Dimensions and weight
Wheelbase
2443mm
Length
4343mm
Width
1689mm
Height
1346mm
Kerb weight
1050kg
Common problems
• Corrosion: Renault had made great strides with its rustproofing by the time the Fuego was launched, so serious corrosion shouldn't be an issue. However, time is likely to have taken its toll on some examples, with the sills, front and rear wheelarches along with the rear quarter panels the most likely areas to be rusty.
• More corrosion: also check the door bottoms, which rust from the inside out when the drain holes get blocked up. The leading edge of the bonnet and the front wings tend to suffer from stone chips; it doesn't help that the paint used on the Fuego wasn't as tough as it might be.
• Tailgate: because of the high loading lip, damage to the plastic finisher is likely. Also make sure that the tailgate release mechanism works as it should; it's activated via a lever in the driver's door jamb.
• Engines: the engines were all fitted to other Renault models, so parts availability is pretty good. They tend to be decently reliable too, so just check for the usual signs of wear such as blue exhaust smoke, which denotes tired piston rings and/or bore wear.
• More engines: the all-alloy 1565cc and 1647cc powerplants are essentially the same engine; the overhead cam 1995cc unit was borrowed from the 20 and 25. The 1397cc engine was used in an array of Renaults including the 5, 9, 11 and 18.
• Suspension: leaking dampers and perished suspension bushes are likely – the former are easily sorted but the latter may prove trickier to fix.
• Power steering: some (but not all) examples of the GTS, GTX and Turbo got power steering, so make sure there are no leaks in the system – leaks in period were common.
• Parts supply: parts availability is a major issue for anything that's unique to the Fuego, such as panels and trim. The mechanical side is served rather better though, as most of the running gear is Renault 18 while the front suspension came from the 20.
• Model updates: it helps that throughout production there were no facelifts, with the last cars differing from the earliest ones only in detail. For example, the grille was redesigned early in 1984, with wider slats.
Model history
1980: The Fuego goes on sale in the UK. On offer are the TL (64bhp, 1397cc), TS and GTS (96bhp, 1647cc) and the TX or GTX auto (110bhp, 1995cc). The GTS, TX and GTX get a five-speed gearbox, the others get four speeds.
1981: The TS gets a five-speed gearbox and the automatic transmission is now optional on the GTS.
1983: The ultimate Fuego is launched – the 132bhp Turbo, with a 1565cc engine and disc brakes all round.
1984: The range is rationalised with all models biting the dust apart from the GTS and Turbo.
1985: Production ends in France.
1986: Production ends in Spain, but assembly is transferred to Argentina.
1987: The last cars are sold in Europe.
1993: Argentinian production ends.
Owners clubs, forums and websites
• turborenault.co.uk • renaultccc.proboards.com • www.renaultownersclub.org.uk
Summary and prices
As with anything this rare, it can be very difficult to put a price on a Fuego. As you might expect, the Turbo models are by far the most valuable. You might get lucky and find a scruffy but solid runner from around £1500, with projects around for considerably less, although a concours condition car with low mileage and offered in perfect condition could be offered at north of £5000.
Some of the other top of the range models like the GTX could actually offer the best value. These cars offer decent performance, with the style and equipment of the pricier Turbos. Budget £1500-£2500 for one of these.
Bottom spec cars rarely crop up, although you'll almost certainly pay less than £1000 for one of these in decent condition.Even absolute mint examples would struggle to sell for more than £2000.
If you're looking for the ultimate driving machine, then it's fair to say the Renault Fuego won't deliver the thrills you're seeking. If you're after a cool and quirky classic however, the Fuego is certainly worth a second look.
Thinking of buying a future classic? Then take a look at these potential future classics...