Best used electric cars
The Volkswagen e-Golf is the best used electric car in our Used Car Awards 2020
Best used electric car: Volkswagen e-Golf
Our pick: Volkswagen e-Golf (2014/14, 19k miles, £14,989)
Electric cars have come a long way in a short space of time, but that doesn't mean you shouldn't be looking at used examples, because cars like the Volkswagen e-Golf will be perfect if your annual mileage is low and you want to seriously slash your motoring outgoings.
The 24.2kWh battery gives an official range of 118 miles on a full charge, which takes around 22 minutes on a 50kW DC rapid charger. This increases to six hours and 45 minutes using a home wallbox, which means a full top-up overnight shouldn't be a problem.
If you rarely travel more than 50 miles a day – and not many of us do – then an early e-Golf could be for you, because a full charge will only cost around £3. That's roughly 3p per mile based on home electricity costs of 13p per kWh and a real-world 100-mile range.
Of course, the same great qualities as every other Golf are present here, so the cabin is well built and the materials feel upmarket. The infotainment is good, the car is refined and comfortable, and there's plenty of room. The only slight sacrifice comes in boot space, but its 341-litre capacity is still very usable.
Compared to EV competitors of a similar age, such as a Nissan Leaf or a Renault Zoe, as good as those cars are, the e-Golf offers more usable range and higher quality. The best bit is that while the example we found might be six-years old, it was only showing 19,000 miles on the clock, and at £14,989 costs less than half of its price when it was new.
VW's upcoming new I.D. family of electric cars is set to re-focus what we know is possible from a family EV, but it'll come at a significant price. A used e-Golf is a piece of history that still feels thoroughly modern and advanced, and it has helped the German brand build its reputation for electric cars.
Finance options
Monthly payments for the e-Golf don't look like much of a bargain, at £345 per month, but you're getting yourself a pretty new car for the money. What's more, you'll also be slashing your outgoings; especially if you plug in at home overnight to take advantage of cheaper electricity tariffs. Meanwhile, if you want to own the car, the optional final payment weighs in at a middling £8,469.
Commended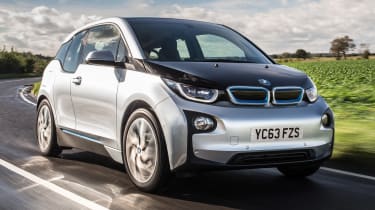 The i3 is one of the most advanced EVs ever. Its carbon-fibre safety cell means it's fairly light, so performance is impressively rapid, especially in town. The ride is on the firm side, but if you focus on the positives – such as the futuristic looks of the cabin – the i3 looks like a great used EV buy.
Left-field choice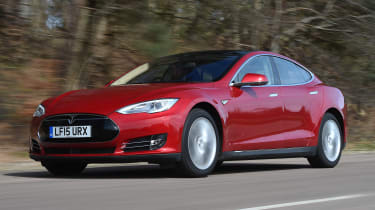 While £30,000 might sound like a lot, this budget will get you into a used Model S. This is the car that made electric motoring premium, and forced rival manufacturers to build their own upmarket EVs. It's a desirable machine with amazing tech, great usable range and superb performance for the price.