Peugeot 508 SW - Best estate cars
The versatile Peugeot 508 SW offers flexible and spacious practicality with a premium-feel interior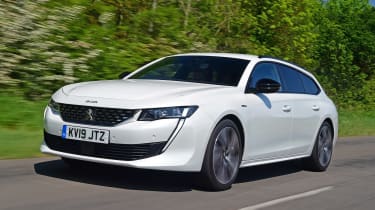 The Peugeot 508 SW ticks both the driving and practicality boxes, although still offers plenty of style and flair for all the family.
It isn't the biggest estate car on the market, but the latest Peugeot 508 SW is still a fantastically usable family model. It's a safe and predictable car to drive, yet a strong equipment list and low running costs count in this model's favour. Peugeot has also added a plug-in hybrid option to the range, bringing lower emissions and improved fuel economy.
The 508 isn't as sharp to drive as a BMW 3 Series Touring, but its predictable, neutral balance means it's easy and relaxing to pilot. It's quiet at a cruise, with the fantastic eight-speed auto and entry-level diesel proving an excellent combination on the motorway.