BMW Z1: Buying guide and review (1986-1991)
A full buyer's guide for the BMW Z1 (1986-1991) including specs, common problems and model history...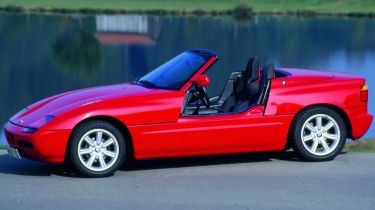 When the BMW Z1 was first shown to the public, the company had absolutely no intention of actually putting it into production. The company had generally shied away from two seater roadsters since the V8 engined 507 – a very beautiful commercial failure for BMW.
The Z1 was an instant hit with the public when images of sharp looking two-seater were leaked to the world's press, but if BMW had had stuck to it's initial plan, the roadster would never have gone beyond the planning stages. Its unusual appearance and clever doors stem from the fact it was simply acting as development mule for the E36 3-Series' clever new Z-axle.
After such a great reception for the concept, it became clear that there might actually be a market for such a creation, and BMW quickly moved to launch a limited edition run of the Z1 In 1987. Characterful and quirky are not words usually associated with BMWs, but the Z1 has both attributes in spades while also retaining BMW's great reputation for performance and speed.
Take one look at this slightly odd-looking two-seater, and you can instantly see that the designers had a lot of fun putting it together, and that sense of enjoyment translated brilliantly to the driving experience. The Z1 is every bit as entertaining to drive as its more grown up siblings.
A large amount of the mechanicals were borrowed from the E30 too, although a completely bespoke chassis and bodyshell caused the price of the Z1 to soar – pushing this 170bhp two-seater to around the same as a basic Porsche 911!
As the years passed, prices for the Z1 dropped, and they are today about as cheap as they will ever be. In total, 8000 Z1s were produced, with many of those still on the roads today. Every one was left-hand drive, meaning you can consider cars from all over Europe if you're looking for the best deal, although official UK cars came with a speedometer in miles per hour and a fuel gauge in gallons rather than litres.
Which BMW Z1 to buy?
Unsurprisingly, with such a relatively short production run, there were very few changes to the Z1 over the years, as you can see in the model history section below. As a result there's not much to choose between the various Z1s out there.
Every car built by BMW is mechanically identical, and the only bodily changes will be interior and exterior colours. Top Red is the most common colour, with black and green close behind. Fun Yellow is rare, with later metallic blue and metallic purple also highly sought after. Interior trim is either grey or cream, depending on the exterior paint colour.
A few important things to look out for when you are buying a Z1 are the original 16-inch alloy wheels, which are unique to the Z1. Keep an eye out for the standard original three-spoke steering wheel, which is also extremely hard to replace.
Original accessories and parts are also rare, and very expensive to replace. It's worth checking that the genuine mats are in place, as well as the correct space saver wheel and cover. Period radio upgrades were common, so finding a car with an original head unit is not too common. You might however struggle to find a replacement, especially the unique Z1 audio system fitted to early cars, if you wish to return it to standard spec.
Although every Z1 left the factory in left-hand drive form, a handful of cars were converted to right-hand drive in the UK. It was an expensive conversion at the time, carried out by Griffin Motorsport and Birds, with some also getting uprated larger BMW engines at the same time.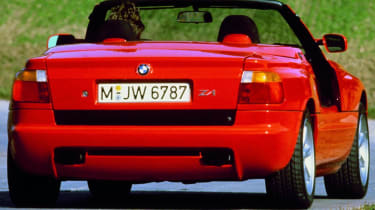 There are a couple of different versions from the likes of Alpina and AC Schnitzer, although these are rare and difficult to find. One particularly desirable option is the hardtop, offered by German company Weismann. This is a pricy collectible now if you can find one, as the company only produced around 500 of these.
BMW Z1 performance and specs
Engine
2494cc, in-line six-cylinder
Power
170bhp @ 5800rpm
Torque
164lb ft @ 4300rpm
Top speed
136mph
0-60mph
7.9sec
Fuel consumption
28mpg
Transmission
Five-speed manual
Dimensions and weight
Wheelbase
2446mm
Length
3950mm
Width
1800mm
Height
1278mm
Weight
998kg
BMW Z1 common problems
• Corrosion: there shouldn't be any signs of rust thanks to the galvanised chassis and plastic body panels. Any signs of chassis corrosion usually points towards serious neglect, mistreatment or most likely previous accident damage.Our advice would be to walk away and find another example, unless you know exactly what you are looking at.
• Chassis: the panels are usually hard-wearing, but cracks often form where they bolt to the chassis. These are often repaired using metal strips for added bracing. The panels also warp and they get scratched too, especially on and around the doors due to the sliding motion, and passengers getting in and out. It's surprisingly easy to remove most of the exterior body panels, but the difficult bit is getting everything to line up correctly when you put everything back together!
• Electronic doors: test out those futuristic electronic sliding doors carefully. They are driven by a toothed belt, which has been known to break. Replacements are surprisingly cheap though, and it's a fix most home mechanics can take on without any worries.The car can actually be driven with the doors in the down position, although generally it's not recommended.
• Maintenance: being based on E30 325i running gear means that Z1 maintenance is easy, however check that the engine is running sweetly, as this particular M20 straight-six was actually borrowed from the much rarer 325ix. You might find that a different engine may have been swapped in at some point, and if valued accordingly, this is not a problem. Just be aware that a car like this might be more difficult to sell on in the future.
• Transmission: the gearbox also differs from its E30 cousin, thanks to the use of a torque tube driving the rear axle. No limited slip differential was offered from standard, but the unit from the E30 325i or M3 is a popular upgrade.
• Exhaust: it might seem obvious, but the condition of the rear exhaust silencer is important, as they generally rust out. Genuine replacements are costly so a custom-made stainless system is a desirable option.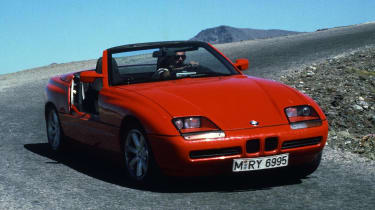 • Interior: part leather interiors wear out surprisingly quickly with the sagging seats quite common. Original trim in good condition makes any car more valuable, although the suede-trimmed cars seem to wear much better. Re-trimmed interiors don't generally add to the value of a car.
• Air-conditioning: the Z1 didn't get air-con, but it is possible to retrofit it, using parts from the E30, although most people don't bother.
• Parts supply: anything that is specific to the Z1 can be difficult and extremely expensive to replace, so ensure that items like the rear light clusters and unique alloy wheels are in top condition.
• Roof: inspect the roof mechanism, as they are getting a little old now. Replacements are available, but expensive when fitting has been factored in.
BMW Z1 model history
1986: In August, the Z1 prototype is shown to the press.
1987: At the Frankfurt motor show in September, the first production Z1 is shown.
1988: Production starts, but just 58 cars are built and the first cars wouldn't be delivered to their eager owners until March 1989. BMW anticipates building 5000 Z1s, but a three-year waiting list quickly builds, forcing production levels to be doubled.
1991: BMW halts production in June, having announced the previous November that it would do so once it had manufactured 8000 examples of the Z1. The final car went straight into BMW's own museum.
BMW Z1 owners clubs, forums and websites
• www.bmwcarclubgb.co.uk • www.bmwz1.co.uk • www.z1z1.de
BMW Z1 summary and prices
Few cars look as unique as the Z1, and that's the main reason why this little sportscar has remained such a fashion icon for so long. Despite the collection of E30 parts, the Z1's fibreglass body panels, unique chassis and interesting door mechanisms give the car a character all of its own.
Just 50 Z1s were officially imported into the UK, although many more have since been shipped in. Prices have been steadily rising in line with a lot of other BMWs, with good examples coming in at between £18,000-£25,000 today. Projects can be had from around £12,000 though, while the very best cars are pushing upwards of £32,000.
Thinking of buying a future classic? Then take a look at these potential future classics...