Top ten best value cars
Driver Power asked UK new car buyers about their cars' value. These are the top ten highest rated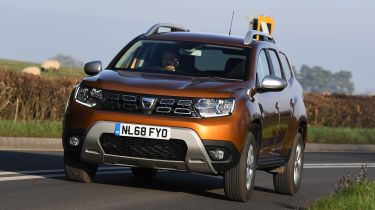 This is a new Driver Power category for the 2021 survey, where we look at not just how affordable a car is, but how much you actually get in return for your cash, regardless of what that sum might be.
Renault subsidiary Dacia has built a reputation for selling eminently affordable cars that still do everything their buyers need them to, and those who purchased the Romanian brand's Duster SUV feel they've got a better deal than anyone else.
Even with optional extras added on, pushing the on-the-road price higher, owners say the SUV is excellent value, with some remarking it's impressive to get a new 4x4 model for such a reasonable sum.
Dacia's Sandero supermini also did well in this section, coming fourth and proving this is a strong area for the whole firm.
Volkswagen Group brands also made appearances. The SEAT Ateca and Arona came second and ninth respectively, the Skoda Kodiaq third and the VW T-Roc eighth. Interestingly, eight of the top 10 cars in this category were SUVs, indicating this type of car delivers strong value.
Your view
"When looking at the overall costs of the car, the Duster offers extremely good value for money for a 4x4 SUV, even after a few optional extras have been added on to the price tag."
Top ten best value cars
Model

Class

Overall Position

Overall Score

Category Score

Dacia Duster

Small SUV

16

89.86%

97.47%

SEAT Ateca

Mid-Size SUV

10

90.40%

94.09%

Skoda Kodiaq

Large SUV

6

90.92%

94.06%

Dacia Sandero

Supermini

75

78.06%

93.99%

Hyundai Kona

Small SUV

1

92.35%

93.49%

Mazda CX-5

Mid-Size SUV

3

91.65%

93.09%

MG ZS

Small SUV

41

86.43%

92.46%

Volkswagen T-Roc

Mid-Size SUV

24

88.89%

92.37%

SEAT Arona

Small SUV

39

86.47%

92.23%

Kia Picanto

City Car

20

89.35%

91.06%