Fiat Dino Coupe: Buying guide and review (1966-1973)
A full buyer's guide for the Fiat Dino Coupe (1966-1973) including specs, common problems and model history...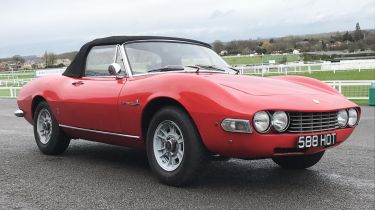 There are very few cars that give off quite the same air of understated class as the Fiat Dino Coupe. Produced from 1966, the Dino's handsome Giorgetto Giugiaro styling clothed a four-seat GT car, which houses a very special engine.
While there have been several examples of Ferrari supplying engines and expertise to more mainstream Italian manufacturers (think Lancia Thema 8.32 and 2016 Alfa Romeo Giulia QV) the Fiat Dino was the first example of this type of agreement occurring on such a large scale.
Contrary to the subsequent tie-ins with Lancia and Alfa Romeo, the Dino Coupe's Ferrari unit was offered to Fiat for the Maranello brand's benefit. In order to be homologated for use in the Formula 2 championship, the 65-degree 12-valve V6 would need to be sold in over 500 road cars within a 12 month period – numbers which Ferrari couldn't manage on its own. So, while Ferrari produced the Dino 206 (and later 246) it was Fiat's GT car which would provide the volume required.
Speaking of volume, the unusual angle of the vee and triple Weber carburettors give the Dino a wonderful – and unmistakably Ferrari – soundtrack. Performance is strong too, with later models covering the 0-60mph sprint in around 8.7 seconds.
Beyond its reputation for being ever so slightly spiky in the wet, the Fiat Dino is fairly pleasant to drive most of the time. Servo-assisted discs all round give good stopping power, while the front wishbone suspension, complete with anti roll bars, helps body control – a quality improved further on 2400 models, which replaces the original's rear leaf springs for a more advanced coil arrangement.
Modern niceties like electric windows are fitted as standard, and interior space in the back is pretty reasonable. The rear bench even splits and folds, so it's surprisingly practical.
Which Fiat Dino Coupe to buy?
The Dino Coupe was produced in two distinct versions during its seven year production run. The original was produced for three years until 1969, at which point the 2400 introduced several changes.
The major difference between the two was the engine. While both featured the Alfredo Ferrari-inspired V6, both its displacement and construction changed. The original used a 2.0-litre unit with an aluminium block. Fiat said it produced 158bhp (though curiously Ferrari claimed the identical unit produced 180bhp when slotted into the Dino 206) and from 1968 it featured electronic ignition – the first production car to use such a system.
Its replacement was both more powerful and more reliable. Now displacing 2418cc, and with a cast iron block, it weighed more than the old aluminium lump, but countered this with significantly more torque – the additional 39lb ft peaked 1400rpm lower than before which improved low speed driveability considerably – further helped by the introduction of a larger diameter clutch and revised gear ratios.
Beyond the engine upgrade, the 2400 gained both mechanical and styling revisions. Wider tyres increased grip, larger disc brakes and calipers helped reduce stopping distances, and fully independent rear suspension – replacing a live axle and leaf springs – improved body control.
The exterior of the 2400 can be distinguished from the original by the loss of much of the chrome trim, which made way for matte black pieces. The honeycomb grille was replaced with a black grille, while the Fiat badge relocated to the bonnet. The tail lamp cluster was also revised.
Early models were criticised for poor build quality, a fault that was rectified before the 2400 was introduced. Inside, the dashboard was updated, with all of the dials moved into a single panel ahead of the driver. Front seats gained headrests. Beyond that, options were fairly limited, with a radio, metallic paint and leather upholstery the only available extras.
Fiat Dino Coupe performance and specs
Engine
2418cc V6
Power
178bhp @ 6600rpm
Torque
159lb ft @ 4600rpm
Top speed
127mph
0-60mph
8.7 seconds
Fuel consumption
19mpg
Gearbox
Five-speed manual
Dimensions and weight
Wheelbase
2550mm
Length
4514mm
Width
1709mm
Height
1318mm
Weight
1400kg
Fiat Dino Coupe common problems
• Corrosion: check for rust in all the typical spots: the wings, floor, base of the A-pillars, wheel arches doors and jacking points are all known to cause bother.
• More corrosion: once corrosion has set into the complex structure of the car, it's very expensive and difficult to repair, making restoration an unappealing prospect.
• Build quality: check panel gaps around doors – the sills can weaken and eventually sag.
• Parts: spares are expensive. The majority of exterior parts, including body panels, bumpers and badges, are hard to source, so restoration is generally easier than replacement.
• Electronics: wiring is generally patchy, so check for faulty switches and lights, but it's all fairly simple stuff. Most switchgear is shared with other Fiats of the same era, meaning most parts can be sourced from Italy.
• Engines: there is plenty of expertise out there with regard to the Ferrari-built V6 engine, as it's shared with the Dino, however vital maintenance in these considerably less expensive models is often left unattended.
• Lubrication: the top end of the engine often suffers from lubrication issues, so both valve and cam wear can occur. The engine also requires its valve clearances to be adjusted every 6000 miles. If this is neglected, the engine will degrade at a much faster rate.
• Engine valves: the later 2.4-litre engines offer a few different issues to its smaller sibling. The original sodium-filled valves were known to break off into the combustion chamber, and although solid valves have most likely been fitted now, a low mileage 'barn find' or original car may not have had the vital work carried out.
• Ignition: early cars equipped with a mechanical ignition system will likely suffer wear to the points and distributor. It won't be too difficult to replace for the fully electric setup of later cars if desired, although many go for a much more reliable modern system.
• Repairs: engine rebuilds are expensive (and items like the exhaust are bespoke), so unless you're willing to throw some money around, look for evidence of recent work, and don't buy a smoky one, as the bores will probably be worn.
• Transmission: while on a test drive, you may notice that the gearshift feels fairly notchy and slow, and the clutch heavy. Don't worry – this is all normal. Other quirks like erratic oil pressures are common, but many examples have received modifications to remedy the symptoms.
• Matching numbers: don't be too concerned by mismatched chassis and engine numbers – they rarely matched from the factory.
Fiat Dino Coupe model history
Oct 1966: Fiat Dino Coupe revealed at Turin Motor Show. 3629 2.0-litre models produced
1968: Electronic ignition introduced to all subsequent models
Oct 1969: Dino 2400 revealed at Turin Motor show. Changes included the 2418cc engine, styling tweaks inside and out, and coil spring rear suspension. 2414 examples of the 2400 were produced
Dec 1969: Assembly moved from Fiat's factory in Turin to Ferrari's Maranello production line
1973: Fiat Dino Coupe production run ceases
Fiat Dino Coupe key clubs and websites
• www.dinouk.com – Ferrari and Fiat Dino specialist • www.dinoitalia.com – a vast resource for all things Dino, including a breakdown of the number of cars which still remain by country, and forum • superperformance.co.uk – parts supplier • www.rosneathengineering.co.uk – Ferrari specialist who are highly recommended by Dino owners' clubs
Fiat Dino Coupe summary and prices
The more desirable, more powerful and better-driving 2400 is generally worth more than the MkI. Very smart examples of the earlier car are offered in Europe for around £25,000.
Clean UK examples of the 2400 currently change hands for around £40-£60,000. As all versions of the Dino were left-hand drive, heading abroad to find one might make sense, particularly as values on continental Europe are slightly lower. It may be necessary to search further afield anyway – 44 examples of the MkI and 65 2400s remain in the UK. Worldwide numbers currently stand at approximately 1100.
Thinking of buying a future classic? Then take a look at these potential future classics...