Nissan Micra - best first cars for new drivers
Gone is the dowdy image of the Nissan Micra this fresh new Micra has a lot going for it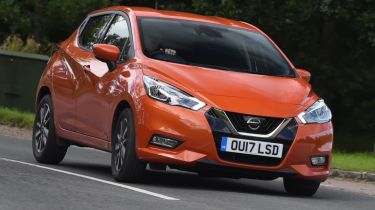 The Nissan Micra has been a mainstay of first time buyers who want a cheap, reliable car, which has is all likelihood been owned by an elderly lady from new. However, the new model is been given a funky makeover, which will mean it appeals to the younger generation much more, and thus, makes it onto our top ten.
While the aesthetics are completely new, the engineering under the skin has been updated and carried over from the out-going model. Included in the refresh, is up-to-date electronic tech taken from other Nissan models such as the Qashqai.
The Micra is only available to buy as a five door, so ideal for those drivers looking for a bit of extra practicality. As standard you get Bluetooth, automatic emergency braking and lane departure warning system. You will need to progress up to Vista+ for air-con and start/stop technology.
To drive, the Micra is more involving than the previous model, however, it is by no means class leading. All cars get 'Active Ride' and 'Active Trace Control' systems to help ensure a smooth journey. The former applying brakes over bumps to ensure the wheels stay on the ground. Whereas the latter helps you stick to the inside line by applying the brakes to the inside wheel.
Top 10 best first cars for new drivers