Skoda Fabia DSG - best small automatic cars
The Skoda Fabia is a great supermini that's just as good with an auto box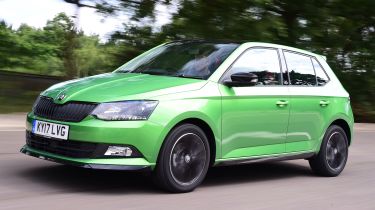 If there's one small car that's suited to an auto box, it's the Skoda Fabia. It's a great choice for those that aren't confident behind the wheel, thanks to its safe handling and decent engine range, while adding the VW Group's seven-speed DSG box makes life even easier.
That gearbox is available with a 1.0 TSI 110PS three-cylinder turbocharged engine, or the 1.4 TDI 90PS diesel and adds around £1,000 to the list price. Having seven gears makes the most of the power these two units offer, and the quick, seamless shifts help keep the car in the right part of the power band to ensure you're ready for anything.
The other benefit of this gearbox is that it shifts up early when you're taking it easy to save fuel. That offsets the higher list price and slightly poorer fuel economy (claimed 61.4mpg compared to 64.2mpg for the manual), while the Fabia's simply clever design touches and decent cabin space put it in front of the small autos pack. And if you want more space, the Fabia Estate is even roomier.
Best small automatics