Skoda Superb Estate - Best estate cars
The Superb Estate is even more versatile than the hatchback on which it's based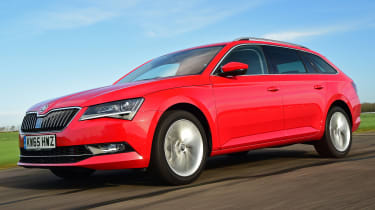 The Skoda Superb Estate is a great estate car choice. Gone is the dowdy design of the previous model, replaced with sharp creases and a lower, wider body - yet the car is cheaper than all of its main rivals.
There's a wide engine choice, starting from a 1.4-litre petrol that sounds as if it should struggle with the car's vast bulk. It's not a problem, though, as the 123bhp unit can hold its own. For most people though, we'd recommend one of the diesels - the 2.0 TDI diesel engine with 148bhp is our pick of the range. It's a good car to drive too, with neat handling and a comfortable ride.
As with the last car, the main selling point of the Skoda Superb Estate is its unrivalled practicality. The boot has grown from the previous model and now provides a cavernous 660-litre load area, or 1,950 litres with the seats down. That's on a level with cars like the Mercedes E-Class Estate.
For rear passengers, luxury is the order of the day - the Skoda Superb provides more rear legroom than every car across the VW Group, bar the long-wheelbase Audi A8. It's wider than the previous car too, making it a better choice for carrying three abreast.
If there's any criticism, it's that the interior design is a bit plain - and of course, the sheer size of the Superb Estate can make it tricky to park.
Best estate cars to buy in 2019
3. Volvo V60
4. Skoda Superb Estate
6. Volvo V90