Vauxhall Cresta: Buying guide and review (1954-1972)
A full buyer's guide for the Vauxhall Cresta (1954-1972) including specs, common problems and model history...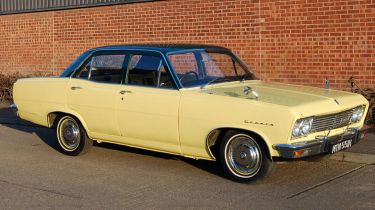 Introduced as a more luxurious version of the Vauxhall Velox, the Cresta offered the discerning 1950s UK motorist the option of travelling in style approaching Jaguar levels, without the price tag. Over the years, each successive generation of Cresta offered more space, pace and upmarket trim options, culminating in the Viscount which could hold its head high against some far more expensive competitors.
While the early cars with their American-inspired styling were the most popular, the entire Cresta range offered a lot for the money.
Which Vauxhall Cresta to buy?
There were three distinct versions of the Cresta over the years; each was successively larger and more luxurious than the next, although in classic car circles it is the earlier E and especially the second generation PA models that receive the most attention.
• Best British cars of all time
Introduced in 1954, the Cresta E was a big step up from the Velox. Interior appointments and exterior styling were far more upmarket, the only carry over being the 2.2-litre straight-six engine and three-speed manual transmission. A number of detail changes were carried out each year culminating in the totally redesigned Cresta PA which arrived in 1957.
These models attempted to capture a slice of Americana, utilising lots of chrome, whitewall tyres and fins, although in a suitably restrained British fashion. The wrap-around windscreens were seriously cool, and while bench seating was still standard, individual front seats were available from 1961 – along with a new 95bhp 2.7-litre straight-6.
The PA was available in four-door saloon, as well as five-door estate body style for the first time. The PA models remain the most sought after and many have been modified over the years making original specification cars very rare.
For 1962, the Vauxhall Cresta PB lost its American styling cues and a larger, roomier but less stylish body shell was introduced. More interesting were the standard-fit front disc brakes and – from 1963 onwards – an optional 115bhp 3.3-litre power unit.
Transmission options now included an optional four-speed floor-mounted manual and either a two or three-speed automatic. Power steering became an option in the last year. The final iteration of the Cresta introduced in 1965 was the PC. Carrying on the tradition of ever larger body shells, this generation introduced the ultra-luxurious 'Viscount' specification.
The Viscount arrived in 1965 and had a standard specification list which included power steering, seat belts, electric windows and a heated rear windscreen. Engine and transmission options remained unchanged until 1971, when a floor-mounted four-speed manual or three-speed automatic in conjunction with bucket seats became standardised.
The major differences between Cresta models occurred between the PA and PB models, despite the similarities in running gear the styling and interior appointments were what really set the cars apart from each other. Picking the right one is really down to personal taste, as well as what's available at the time.
Vauxhall Cresta performance and specs
Model
Vauxhall Cresta PB
Engine

3294cc 12-valve OHV in-line six-cylinder

Power
115bhp @ 4200rpm
Torque
175lb ft @ 2200rpm
Top speed
93mph
0-60mph
16.8 sec
Fuel consumption
18.3mpg
Gearbox
3/4-speed manual
Dimensions and weight
Wheelbase
2730mm
Length
4752mm
Width
1772mm
Height
1417mm
Weight
1207kg
Vauxhall Cresta common problems
• Corrosion: rust is a common problem, and if a body shell is too far gone it's best to walk away. Replacement panels can be hard to source, and the cost of getting a car right again can be prohibitive. Check behind the headlamps, door skins, door sills and especially around the steering box for any signs of corrosion.
• Powerplant: engines are tough and with regular care tend to last over 100,000miles between rebuilds. Most have had upgraded hardened valves and springs to cope with unleaded fuel, and as long as the oil is changed every 3000 miles, the only recurring issue a the tendency to leak a bit of oil.
• Brakes: cars equipped with drum brakes tend to take their time coming to a stop, while cars with front discs are far more confidence inspiring. A disc conversion is a desirable mod.
• Starter motor: starter motor solenoids can stick, but reconditioning them is not overly expensive.
• Bushes and dampers: suspension components are still available, and fresh bushes and dampers can make a massive difference in the way the car rides and handles. Handbrake shoes can bind after long periods spent stationary.
• Electronics: electrical systems are basic and most issues can be traced to damaged wiring or broken switches. Interior trim can be difficult to source, so a car with all its trim intact is ideal.
Vauxhall Cresta model history and production numbers
1954: Vauxhall Cresta E introduced with 2.3-litre in-line six and three-speed manual. Offered in four-door body style. 166,504 built.
1957: Vauxhall Cresta PA launched, with five-door estate body style added to range. 81,841 built
1961: 95bhp 2.7-litre engine introduced, as well as optional automatic gearbox
1962: Vauxhall Cresta PB introduced. 87,047 built.
1964: 115bhp 3.3-litre engine introduced, as well as front disc brakes
1965: Vauxhall Cresta PC launched. Power steering introduced as option. 53,912 built
1966: Vauxhall Viscount introduced as an upmarket version of PC. Comprehensive standard specification list included electric windows and walnut dashboard. 7025 built
1972: Vauxhall Cresta production ends
Vauxhall Cresta owners clubs, forums and websites
• www.vauxhallcrestaclub.co.uk – UK Cresta club• www.vauxhalldriversclub.co.uk – Active Vauxhall forum
Vauxhall Cresta summary and prices
Pricing is split between the more desirable American styled E and PA models built from 1954 to 1962 and the later PB and PC Crestas. The early cars can command up to £20,000 for concourse winning examples, or if you enjoy a challenge, £3000 for a project. Post-1962 models can be had from £2500 for a decent runner to £7000 for a mint one.
Values tend to fluctuate based on condition rather than specification. Whether you opt for the earlier more stylish cars, or one of the later straight-laced variants, a well maintained Cresta can make for an enjoyable classic car experience.
Thinking of buying a future classic? Then take a look at these potential future classics...