Volvo V60 - Best estate cars
The Volvo V60 has been reborn into a hugely stylish and desirable car, yet still offers brilliant practicality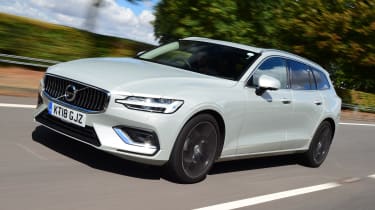 For car buyers, the latest generation of Volvos are hard to ignore and the new V60 is no exception. Great styling and excellent tech are two of its strong points, but its comfort and safety help it shine in a fiercely competitive class.
Open the tailgate and there is a large 529-litre boot – trumping the A4 Avant and BMW 3 Series Touring – with a wide floor devoid of an inconvenient load lip. The rear seats fold down at the press of a button and come to rest almost flat, increasing luggage space to 1,441 litres.
Similar to its German rivals, the V60's transmission tunnel hampers space for the middle rear passenger, but six-footers should have no problem sitting in the outer seats, even if there is an equally tall person in the front.
On the open road, the V60 offers a comfy ride – Volvo doesn't even try to claim that the V60 is sporty. This makes it the complete opposite of the BMW 3 Series Touring, which is a thrilling estate to drive. Which one you prefer, will ultimately come down to the type of driving experience you are looking for.
One complaint with the V60 is that Volvo has followed the trend set by its German rivals by having much of the more desirable equipment only optional in the lower trim levels, so be careful with the configurator.
Best estate cars to buy in 2019
3. Volvo V60
6. Volvo V90