Mountune releases 360bhp power upgrade kit for Ford Focus ST
Performance specialist Mountune reveals m365 package for Focus ST, offering 30 per cent power increase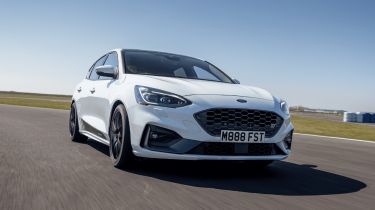 Ford tuning-specialist Mountune has released a power upgrade kit for the Focus ST hot hatch, which aims to retain the usability of the standard car while providing a significant boost in power and torque.
Called the m365 upgrade kit, it comprises a specially designed, three-inch high-flow exhaust downpipe, a sports catalyst and an upgraded exhaust gas particulate filter which, combined with a new high-flow air filter and an ECU recalibration, add 84bhp and 140Nm of torque to the standard car's figures. 
The ECU tuning makes use of Moutune's SMARTflash mobile app, which allows users to switch the engine map between three power levels and an anti-theft setting. In the ECU's most potent m365 mode, the full potential of the tuning kit is unlocked, with a total output of 360bhp and 560Nm.
The car's upgraded exhaust system has been designed to reduce back-pressure while maintaining acceptable emissions levels, and the kit has been designed to produce an even spread of torque over the entire rev range, to maintain the drivability of the standard Focus ST. 
The SMARTflash software is the most expensive element of the kit, priced at £689, with the high-performance downpipe and gas particulate filter costing £575 and £525 respectively. The high-flow air filter is an additional £49.50, bringing the total cost of the kit to £1,838.50.
Mountune already sells a 325bhp m330 upgrade package for the Focus ST, which includes the upgraded air filter and SMARTflash software. To upgrade to m365 spec, existing customers can purchase the new downpipe and gas particulate filter, and a £99 SMARTflash upgrade.
Commenting on the new m365 kit, founder of Mountune David Mountain, said: "We are delighted to launch our latest upgrade kit for the much-loved mk4 Focus ST. Ford has done a great job with the stock ST and what we have done with this m365 upgrade kit is to fully optimise the calibration with our newly engineered low-back pressure exhaust hardware – this means maximum performance is available throughout the rev-range and it's now a seriously fast car, which is also great fun to drive, too."
Check out our review of the Volkswagen Golf GTI Clubsport here...